BCSI Guides Truss Installation Process, Pt 2
Date posted
August 8, 2023
Originally Published by: SBCA Magazine — August 8, 2023
SBCA appreciates your input; please email us if you have any comments or corrections to this article.
Best Practices for Truss Installation (Part 2)
Design & Package Documents Pre-Install Review  
Before handling a truss, it's vital to examine the truss design drawings (TPDs), truss package documents (TPDs) and all supplied jobsite package material with the installation team. Having a cohesive understanding of the project design, structural system, bearing locations, related installation conditions, and safety measures at the beginning streamlines the process, prevents mistakes, incidents, and costly corrections. It's a simple step toward proactive communication and it has a compounding impact that results in a well-organized and productive on-site workflow leading to a safe, cost-conscious quality build. Begin installing trusses only after the TTDs, TPDs, and supporting material have been reviewed as a team, questions have been clarified, and unsatisfactory conditions between the plan, available materials, and/or site have been addressed. 
Key Techniques for Proper Installation  
Connect all load bearing supports (walls, columns, headers, beams, etc.) before installing trusses. 
Note, stopping mid-install to straighten and/or brace load bearing supports is dangerous.  
The spreader bar prevents lateral bending and should attach to top chords and webs at 10-foot intervals. 
Locate the spreader bar at or above mid-height of the truss to prevent overturning. 
For single trusses between 30 – 60 feet, use a spreader bar 1/2 to 2/3 of the truss length.  
Attach Truss to the Spreader Bar with lines that slope inward or "toe-in." 
For single Trusses over 60 feet use a spreader bar 2/3 to 3/4 of the truss length in conjunction with a bracing plan provided by the registered design professional (RDP). 
Install lateral restraints and diagonal bracing to prevent trusses from toppling during installation. 
Erect trusses using the design spacing indicated, keeping the trusses vertical and parallel to one another. 
Anchor trusses securely at bearing points. 
Install trusses no more than plus or minus 1/4" from TPD location. 
Refer to the construction documents (CDs), the TDDs, or the TPD for the hanger locations. 
Install all permanent individual truss member restraint and bracing or member reinforcements depicted on the TDDs, BCSI-B3, and the CDs.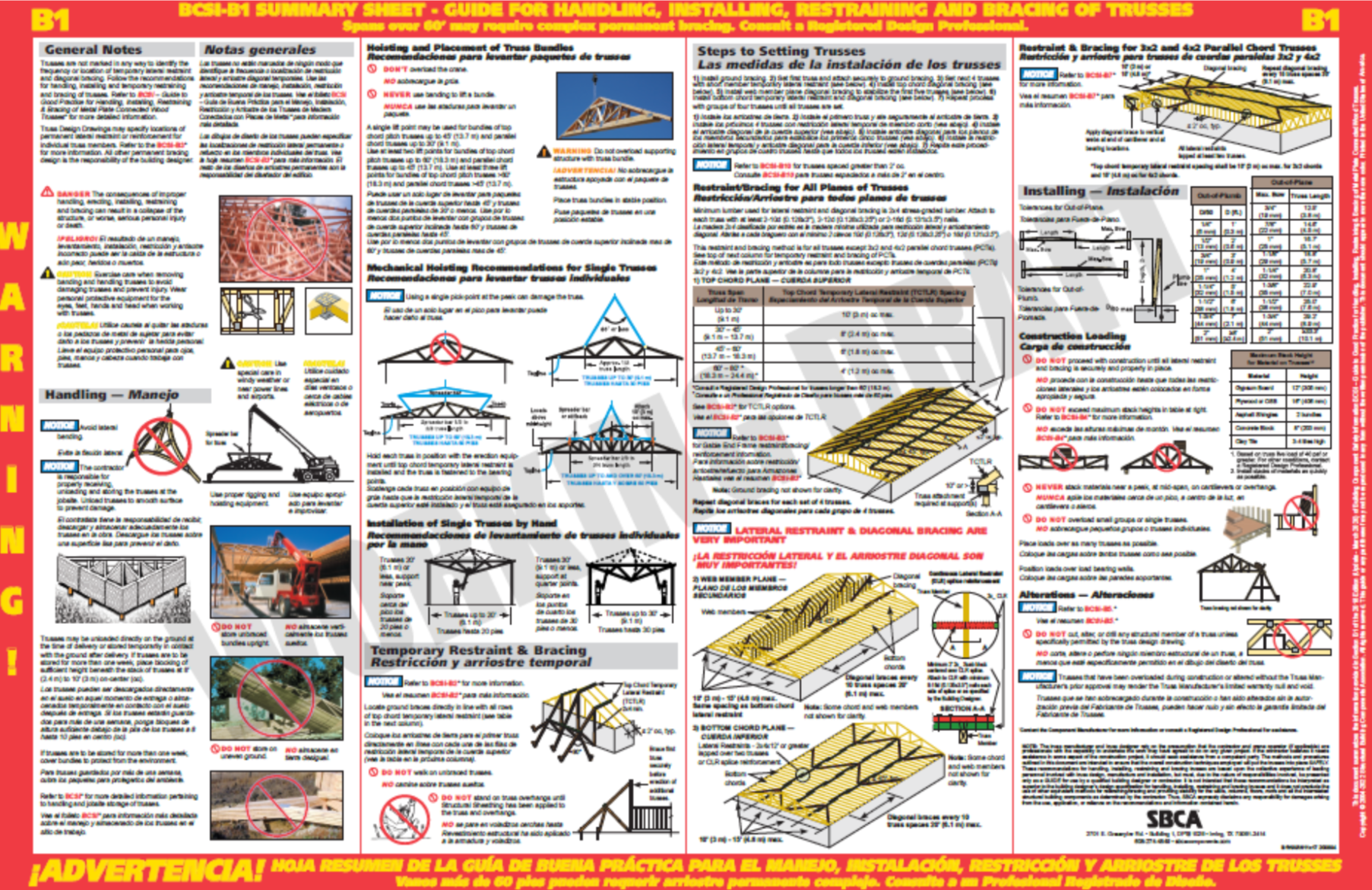 The BCSI B-1 Summary Sheet contains further information on these techniques, and others, for proper field installation, and is included in SBCA's standard Jobsite Package.
Safety Precautions During Construction 
During construction, distribute material and equipment loads on the trusses to stay within the design load limit for each truss.  
Make sure to restrain and brace trusses sufficiently before placing any construction loads on them.
Only install HVAC units, fire sprinklers, etc., on trusses if the trusses have been designed to accommodate these specific loads. 
Truss installation is a pivotal part of the construction process demands diligence, intentional communication, and strict adherence to safety protocols. Building professionals can cultivate a consistent truss installation process that improves the quality, integrity, and caliber of builds across every phase of the project by studying, understanding, and utilizing BCSI's checklists, instructions, and information. 
Pro-Tip! When in doubt, always consult with the project's registered design professional and/or component manufacturer.