BFS Sees Manufactured Product Sales Grow 198% YOY
Date posted
August 10, 2021
Originally Published by: HBS Dealer — August 5, 2021
SBCA appreciates your input; please email us if you have any comments or corrections to this article.
A mega merger with BMC, commodity inflation and basic LBM blocking and tackling propelled Dallas-based Builders FirstSource to a record second quarter.
Among the highlights:
Net sales of $5.6 billion for the quarter increased 186.6% driven by the merger with BMC, commodity inflation, and strong organic growth.
Gross profit of $1.6 billion increased 206.0% driven by the merger with BMC, commodity inflation, and double-digit organic growth.
Net income for the company grew to $497.2 million, up from $122.5 million in the prior-year quarter.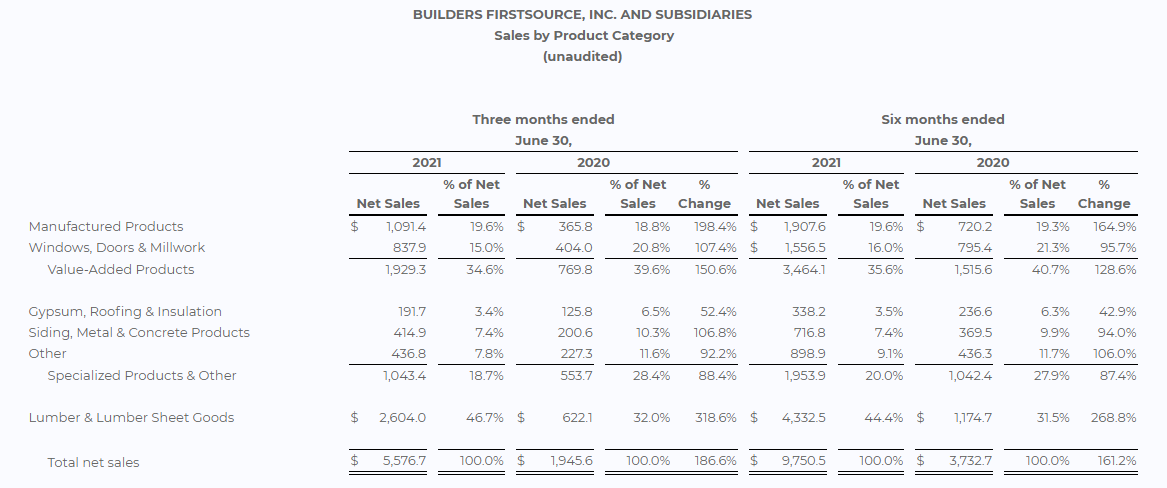 Dave Flitman, CEO of Builders FirstSource, gave credit to the effort and execution of the 26,000 employees. He also pointed to core organic sales growth of 35% along with record gross profit, adjusted EBITDA and margin.
"Our strong results accelerated in the second quarter as we continued to expand our value-added offerings while maintaining our focus on operational excellence and providing outstanding customer service." Flitman said. "Demand in single-family housing remains exceptionally strong and we continue to capitalize on this positive trend while ensuring we meet the needs of our customers."
Looking ahead, the company expects net sales to grow to a range of $18 billion to $19 billion, representing a 41% to 48% gain over the combined net sales of BMC and BFS in 2020.