Originally Published by: SBCA Magazine — June 27, 2023
SBCA appreciates your input; please email us if you have any comments or corrections to this article.
An Introduction to Building Component Safety Information
Over the next several weeks and months, SBCA will take a look at its Building Component Safety Information (BCSI) guide in a series of articles. This series explores the segments of the BCSI Guidebook covering a wide array of topics to provide in-depth insights, practical tips of the trade, and real-world applications for building professionals including but not limited to, architects, designers, specifiers, engineers, home builders, contractors, framers, component manufacturers, inspectors, developers, educators, and practitioners throughout the residential building industry. From fundamental aspects such as safely handling Trusses to more intricate installation techniques like temporary and permanent bracing— This deep dive into all things BCSI serves as an easily digestible educational medium for promoting construction safety practices, addressing common challenges, and enhancing the awareness and adoption of readily available and accessible innovative building component system solutions.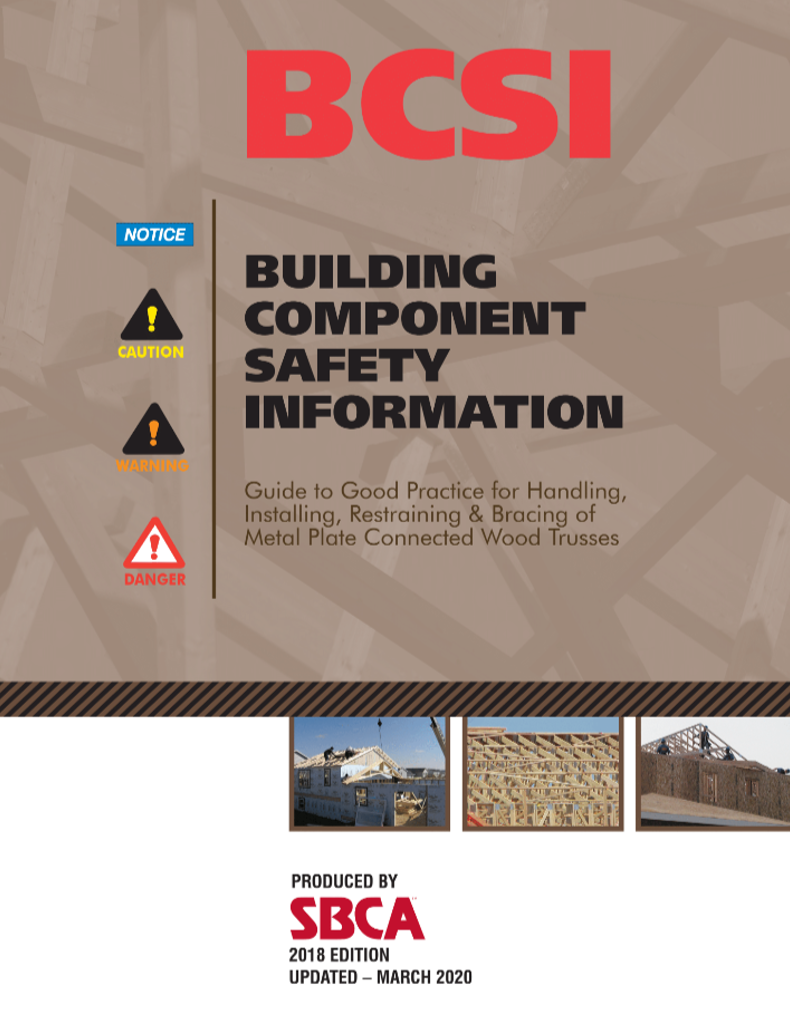 This first installment serves as a high-level introduction to the BCSI Guidebook for industry professionals and potential users involved in the planning, design, specification, production, construction, and inspection of single-family and multifamily residential construction.
When it comes to the construction industry, safety and efficiency are paramount to the realization of any building or structure. Efficiency reduces waste, rework, and time to market leading to lower operational costs, increased profit margins, and happier clients. While job-site safety reduces risk, accidents, liability, and the ever-growing cost of insurance and legal fees for the builder and provides greater peace of mind to the installation crew. All of which results in higher quality builds.
With this in mind, members of the Structural Building Components Association (SBCA) and the Truss Plate Institute (TPI) collaborated in 2003 to develop the first edition of what has become an indispensable resource and go-to reference manual for building industry professionals seeking to understand and adhere to industry standards and building best practices known as the Building Component Safety Information Guidebook or BCSI.
For more than 20 years SBCA has periodically reviewed and updated the guide by soliciting and incorporating feedback from industry experts and allied organizations, integrating shifts in technology, process, product, and building codes to uphold the merit, validity, and relevance of the information provided within.
BCSI was designed to facilitate the adoption and utilization of offsite construction / on-site assembly solutions. This comprehensive guide promotes safe measures while ensuring optimal structural performance in line with current regulatory requirements. This guide was built upon the foundation of prioritizing jobsite safety and elevated structural performance, encompassing research and insights from prevalent safety documents, adept understandings, and industry standards. The methods recommended are in line with accepted framing construction practices and are tailored to the handling, installing, restraining, and bracing of Metal Plate Connected Wood Truss Building Components. However, it is important to note that the recommendations in the BCSI book should be used in conjunction with the Building Designer's specifications and are not intended to be superior or restrictive. Additionally, it is essential to consult with qualified professionals and adhere to local building codes and regulations for specific projects and circumstances.
BCSI is divided into sections B1-B11, each focused on specific aspects of component handling, installation, bracing, and safety with supplementary information and resources incorporated throughout. It was constructed to be utilized and referenced in a variety of scenarios across a range of user types from planning and design, on-site framing, to post-installation inspection.
Regardless of the role, the best place for any BCSI newbie to begin is at the end. That's right, flip it over before diving in. The back cover of the guidebook details the subject of sections B1-B11 allowing quick and easy navigation to the most relevant information needed based on the situation at hand. (See Below)