Chart: SF Starts Steady; Builder Confidence Stays Strong
Originally Published by: NAHB — June 16, 2021
SBCA appreciates your input; please email us if you have any comments or corrections to this article.
Housing production was steady in May, although permit issuance weakened as higher costs are deferring and delaying some construction projects. Overall housing starts increased 3.6% to a seasonally adjusted annual rate of 1.57 million units, according to data from the U.S. Department of Housing and Urban Development and the U.S. Census Bureau.
The May reading of 1.57 million starts is the number of housing units builders would begin if development kept this pace for the next 12 months. Within this overall number, single-family starts increased 4.2% to a 1.098 million seasonally adjusted annual rate. Single-family housing starts are up 31% on a year-to-date basis; however, the numbers are distorted by the weak readings of the Spring of 2020. As is the case for builder confidence, starts are trending somewhat lower off peak market conditions during the 2020 rebound last Fall.
The multifamily sector, which includes for-rent apartment buildings and condos, was up 2% at a 474,000 annual rate for 2+ unit construction. After posting a slight decline in 2020, multifamily construction has been strong at the start of 2021, led by gains for suburban apartment construction.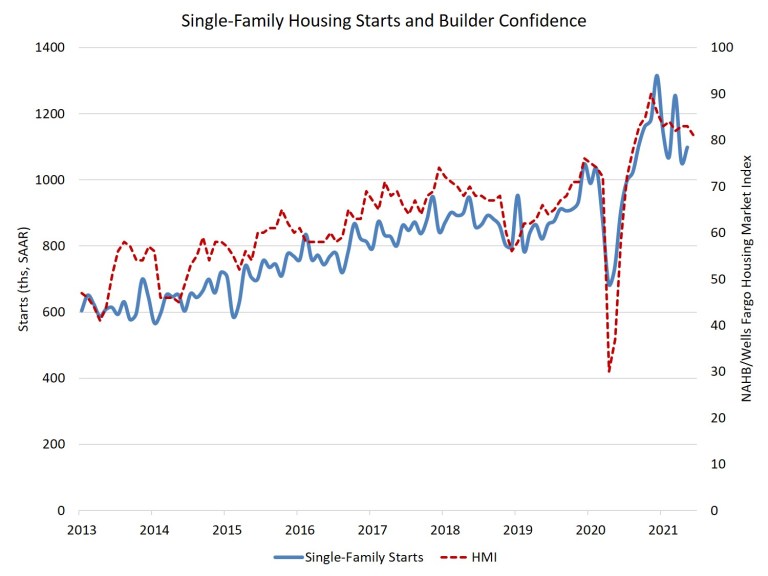 Builder confidence remains solid in spite of supply-side challenges, according to the NAHB/Wells Fargo Housing Market Index (HMI). However, after peaking at a level of 90 last November, builders report challenges concerning elevated lumber and other construction costs, as well as delays in obtaining building materials and appliances. Builders also reporting growing concerns about a more challenging regulatory environment that could limit land development volume. The NAHB forecast includes some weakening for single-family home building at the start of 2021 (off recent highs last Fall), with a return to the long-run post-Great Recession trend as the year progresses.
It is also worth noting that the number of single-family homes permitted but not started construction continued to increase in May, rising to 142,000 units. This is 53% higher than a year ago, as building material costs increase and delay some home building.
Regionally, thus far in 2021, 56% of single-family construction is occurring in the South. Data from NAHB's Home Building Geography Index indicate outsized gains for construction within markets with lower regulatory costs and greater access to developable land.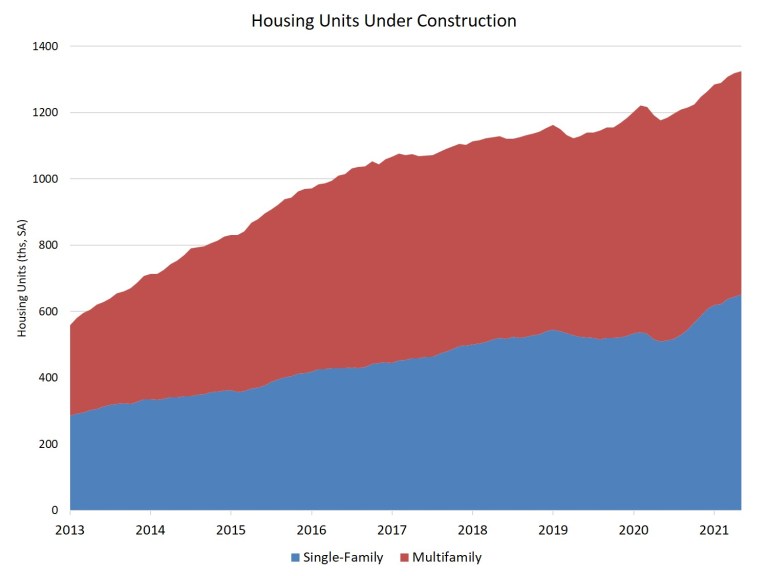 As an indicator of the economic impact of housing, there are now 652,000 single-family homes under construction. This is 28% higher than a year ago. There are currently 672,000 apartments under construction, off a post-Great Recession high mark set in February 2020 (684,000). Total housing units now under construction (single-family and multifamily combined) is 12% higher than a year ago.