Concrete Shortage Growing Cause of Construction Delays
Date posted
November 8, 2022
Originally Published by: Levelset — November 2, 2022
SBCA appreciates your input; please email us if you have any comments or corrections to this article.
Contractors across the U.S. have recently expressed concern about completing prospective construction projects due to a nationwide concrete shortage. It's a problem not new to the industry — companies have been fearing a growing project backlog for some time now, and the dwindling concrete supply could worsen the crisis.
Carroll's Building Materials' general manager Bill Yates told Florida's Bay News 9 that he believes the price of concrete has increased by 35% this year, and that while there is plenty of construction work to go around, there's simply not enough concrete to supply those projects.
Though Yates' company is based in Florida, concrete is undeniably vital everywhere. Concrete is the second-most used substance in the world after only water. It's so integral, the concrete price hike can be seen first-hand in Levelset's Materials Price Tracker, a tool that shows the changes in material costs.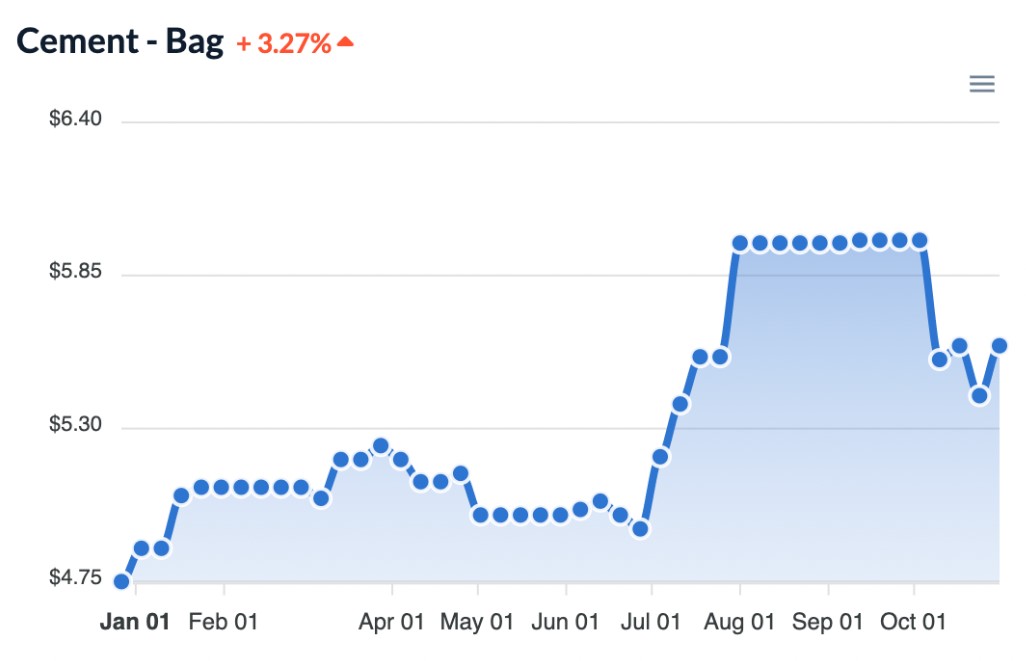 Graph illustrating the price of cement from January 2022 to October 2022.
The average price of a cement bag in the United States, for example, has increased 3.27% since January. Though it dipped about 20 cents in early October, it's on the rise again.
"Concrete is a huge part of our building industry," says Yates. "We just need concrete. That's it."
Despite residential construction hardship, concrete-dependent infrastructure projects are plentiful
It's no secret that the housing market is experiencing its fair share of difficulties — mortgage rates are increasing fast, making it increasingly difficult to buy a house.
But regardless of the residential construction sector's condition, the need for concrete doesn't go away. The commercial industry continues to boom late into 2022, and projects are popping up everywhere. It's likely this trend will continue, caused in part by the federal government's infrastructure bill from last year. The bill's goal is to supposedly create two million jobs and a plethora of new infrastructure projects.
Though an exciting addition to the construction industry, the new legislation poses questions for suppliers. With so many projects to complete, how can we ensure there will be enough materials to go around? Even before the infrastructure plan was set in place, contractors struggled with a steadily increasing construction backlog.
Bay News 9 reports that "developers are building faster than suppliers can make the building materials," an idea that has contractors concerned.
Post-pandemic industry challenges, large corporations, and unexpected construction trends could play a part in the supply chain's backup
It's hard to pinpoint a singular cause for the current concrete shortage.
The United States' construction industry has certainly been feeling the heat of global issues in recent years. Obstacles like the war in Ukraine have affected the supply of natural gas and oil, and the COVID-19 pandemic created blockages in transportation, labor, and more.
ConstructConnect's Chief Economist, Alex Carrick, theorizes that "the pandemic certainly had an influence because heading into the pandemic the expectation, for example, was that housing would really deteriorate…and then housing stayed much stronger than expected, so the price of lumber took off."
Others might say that the efforts of large corporations are taking a tremendous toll on the supply chain, specifically concrete. New Amazon warehouses have recently been accused of allegedly "forcing concrete suppliers to push scheduled pours out by weeks if not canceling them altogether." Amazon is supposedly continuing to rapidly expand its distribution centers throughout the country.
Contractors doing what they can to protect their businesses
The concrete industry itself is massive: Some of the nation's top-earning firms have brought in billions of dollars this past year, according to Engineering News Report's 2021 specialty contractors ranking. For such a large industry, supply chain issues could be devastating.
There are, however, ways that contractors can deal with rising prices: financing material purchases, increasing margins, and utilizing an escalation clause to "provide a more competitive estimate without additional margin for risk," according to Levelset's Dawn Killough.
Keeping track of what financial experts have to say could be beneficial for contractors and business owners alike.
"I can't see how it isn't going to be a world in which simply living and doing business isn't going to be a whole lot more expensive than it was in the past," Alex Carrick said.
Despite the intimidating concrete shortage and price increase, it's possible a slowdown may be on its way. Some building materials, like lumber, are finally experiencing steady prices after dealing with fluctuation for years. And though quite unpredictable, the future of the concrete supply chain will surely have an effect on the rest of the construction industry.