How Rotating Telehandlers are Improving Construction
Date posted
October 12, 2022
Originally Published by: Construction Dive — August 1, 2022
SBCA appreciates your input; please email us if you have any comments or corrections to this article.
Contractors face new challenges every day. Projects get more complex, regulations get tighter, expenses go up and deadlines shorter. The solution? Rotating telehandlers.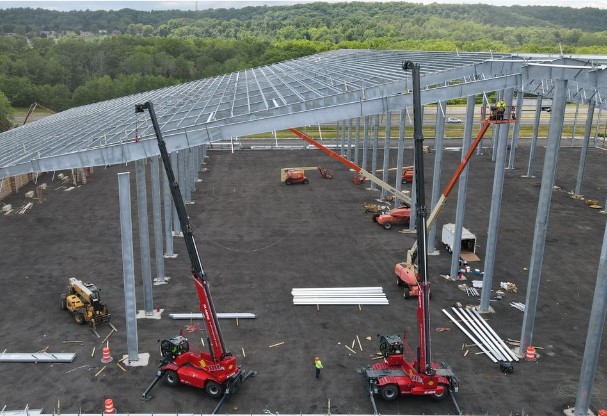 Permission granted by Magni
Smart contractors rely on rotating telehandlers. Rotating telehandlers provide adaptable solutions traditional 'fixed' telehandlers can't. With a rotating telehandler contractors can:
Reach further
Lift higher
Handle heavier loads
Here's how.
Rotating Telehandlers Reach Further
Fixed telehandlers slow teams down when a project space is cramped. A fixed telehandler requires your team to constantly move the machine into new positions wasting valuable time. Longer boom lengths and higher capacities enable rotating telehandler operators to reach further, faster, safely. Fixed telehandlers struggle when working in complex spaces. Their design means teams spend more time adjusting the machine.
A rotating telehandler helps teams reach further and faster using their three hundred and sixty degree turret rotation. Rotating telehandlers don't just lift further, they also lift higher.
Rotating Telehandlers Lift Higher
Fixed telehandlers struggle with height. If you had to place materials up high, you needed a crane. That meant renting another machine, finding a crane-certified operator and getting the crane on site. Rotating telehandlers updated boom length and higher capacity fixed that.
Need to lift a heavy load up high? A rotating telehandler can help lift up to 167 feet.
Rotating Telehandlers Lift Heavier Loads
Fixed telehandlers have strict load limits. Rotating telehandlers can lift heavier loads, higher. There is one rotating telehandler that blends cutting edge design and expert engineering with a simple, fail safe system for lifting heavier loads higher (find out 'who' offers this below).
Your tight project space causing unseen challenges? A rotating telehandler's 360 degree radius can help.
Why 360° Is Better
A big challenge contractors face is accessibility. Operating in 360° let's you:
Increase productivity up to 100% vs. Fixed Telehandlers
Put less wear and tear on the jobsite
Operate easily in tight areas
This saves your team time. Being able to rotate the lift three hundred and sixty degrees without moving the machine lets your team solve complex problems faster.
Because the rotating telehandler can reach complex spaces faster, lift heavier loads and go higher, it's designers knew it could do more than one job.
That's why the best feature of a rotating telehandler is its ability to do the job of multiple machines.
The Rotating Telehandler, One Machine, A Dozen Solutions
Whether you're renting a machine, or investing in one, you know it's an expense. That's why you want one machine that does the work of many. You want a machine that can do the work of a:
Telehandler
Rough Terrain Crane
Aerial Work Platform
Need an aerial work platform? Rotating telehandlers can help. With the right attachment, your team can remove the original attachment and replace it with an aerial platform. Now you can not only get more jobs done, you can also lift teams higher, with heavier equipment, without sacrificing safety.
Need a rough terrain crane? Rotating telehandlers can help. Even better? They were engineered so anyone can operate them without a crane operator's license (in most circumstances)!
Now you can handle crane level loads without bringing in a large, separate machine, and finding a certified operator.
Rotating Telehandlers Are Engineered For Ease Of Use
Most rotating telehandlers are hard to use. They weren't developed with intuitive, easy to learn, operating systems. You want a rotator that your operator can get running in less than a day.
So what's the best rotating telehandler on the market?
The Best Rotating Telehandler | Magni
With so many options, what's the best way to know the 'right' rotating telehandler for your needs? Good question. The answer? Magni. Here's why.
Magni works faster
Deadlines matter
That's why Magni's engineers designed it to deliver loads faster. Compared to both traditional fixed and rotating telehandlers, the Magni:
1. Offers 16 different models so you can find the right fit no matter your need.
No matter your load weight, Magni can help. With lifting heights ranging from 57' to 167' and capacities from 8,8000-28,600 lbs, you'll find the solution you need.
2. They use active digital LMI systems and load limiting devices ensuring on site safety.
The software calculates risk so your team doesn't have to. Less human interaction means less human error.
3. Is one machine that does the work of many.
With multiple attachments the Magni can become the machine you need in just minutes. Go from rough terrain crane to aerial platform and more in just minutes.
Want to keep your project on schedule and keep your team safe? You need Magni.
Magni Lifts Heavier Loads Higher
In a crowded market competitive advantages matter. Magni gives you the advantage by helping teams lift heavier loads higher than the competition. No matter where your material needs to go-Magni can get it there.
Now you can place heavy material loads, high, quickly, and without compromising safety. In fact, Magni's safety design makes it the 'go-to' design for when safety matters. Magni's engineers created a load and height management software that prohibits the operator from making unsafe picks.
Magni Is Many Machines In One
The Magni has many attachments. Do you need a rotating telehandler at the start of the day, an aerial platform after lunch, and a rough terrain crane to lift heavy loads before the end of day?Magni can handle it.
With many attachments possible-and many more coming-Magni does the work of many machines without requiring:
Costly licensing
Long learning periods
Massive teams to manage it
Discover More About Magni
Engineers and contractors agree-Magni is the best! But don't just take their word for it. See for yourself. Visit a Magni dealer and see for yourself. Reach out HERE for an in-person demo, and see the difference a rotating telehandler can make.