Kannapell Remembers 84 Lumber's Joe Hardy
Date posted
January 17, 2023
Originally Published by: Joe Kannapell — January 17, 2023
SBCA appreciates your input; please email us if you have any comments or corrections to this article.
I only knew Joe Hardy by the company he kept, but that was enough to get me, multiple dignitaries, and many hundreds more to his memorial visitation. He was the last World War II veteran, billion-dollar company patriarch left standing, until the afternoon of his 100th birthday. Though he was the consummate, hardworking, blue-collar type-of-guy, he had the satisfied look of a Wall Street mogul, splendidly laid out, tuxedo-clad with cufflinks emblazoned "100", and cigar-in-hand. Yet, to everyone, he was just "Joe".
To the folks of the coal country of Southwestern Pennsylvania, Joe Hardy was a godsend, transforming a stretch of the old National Pike (US 40) with a Four Diamond resort, ski slopes, golf courses, a casino, and much more. But Joe's greatest legacy is found in the countless souls he animated with his "Nothing is Impossible" spirit.
The uninspired don't last long at his 84 Lumber flagship. But Joe steadfastly believed he could take an otherwise average associate and raise him to greatness, as I witnessed many times in my 30 years supplying his truss plants. Joe seemed to be omnipresent in all his operations, though I only saw him when he cut the ribbon on a new plant. The last occasion was near Indianapolis when he was 93 years young. The protocol there was consistent with past grand openings, from Phoenix to Raleigh, with all associates standing abreast in their Khaki pants, with blue shirts for truss builders and yellow for lumberyard hands. Joe traversed the line (this time in a wheelchair), bubbling with inspiration as he addressed each of his enthralled associates. Then all trooped into the plant to hear from fawning local dignitaries, 84 leadership, and lastly Joe, who ascended from his chair and walked to the podium for a lucid, inspiring speech to the one hundred-or-so guests and associates assembled. From there, Joe flew to Dunn, North Carolina, for a reprise of this rather arduous event.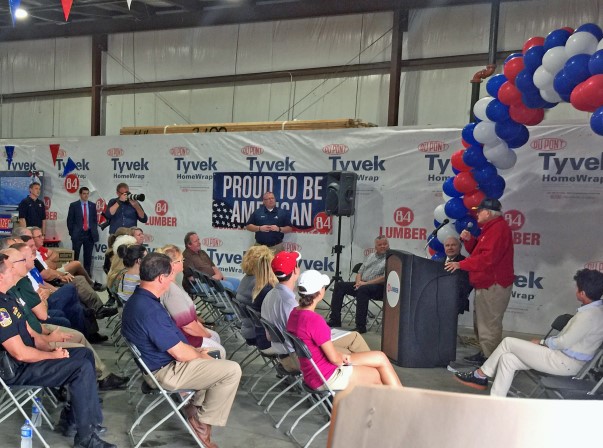 Joe and Maggie
Many are deterred by the austerity of 84, their spare lumberyards and rather spartan headquarters in Eighty-Four, PA, where the median home price is $169,000. Yes, this is a no-nonsense, tight-fisted, lean, and mean organization. Yes, everyone wears that standard, unadorned uniform (some even wore it to Joe's visitation). Salaries may be modest until new hires prove their worth. In return, associates get the best training in the industry and, as they rise through the ranks and become store managers, are given unusually broad authority and excellent earning potential.
So headed into tough times, who will fare better than the company that follows the Warren Buffett plan for surviving a downturn; owning its facilities, and not having to pay rent. And a company with the least overhead and lowest operating costs, whose successor, Joe's daughter Maggie, was baptized in the fire of the 2008-10 recession.
In the receiving line, when I reminded Maggie that I was her old truss guy, she hugged me and told me as Joe would have, "Your guys better keep up with us." Being an average Joe myself, I'd put my money on what is now clearly Joe's daughter's company.