Manufacturing Components Featured in Housing Showcase
Originally Published by: Builder — June 9, 2023
SBCA appreciates your input; please email us if you have any comments or corrections to this article.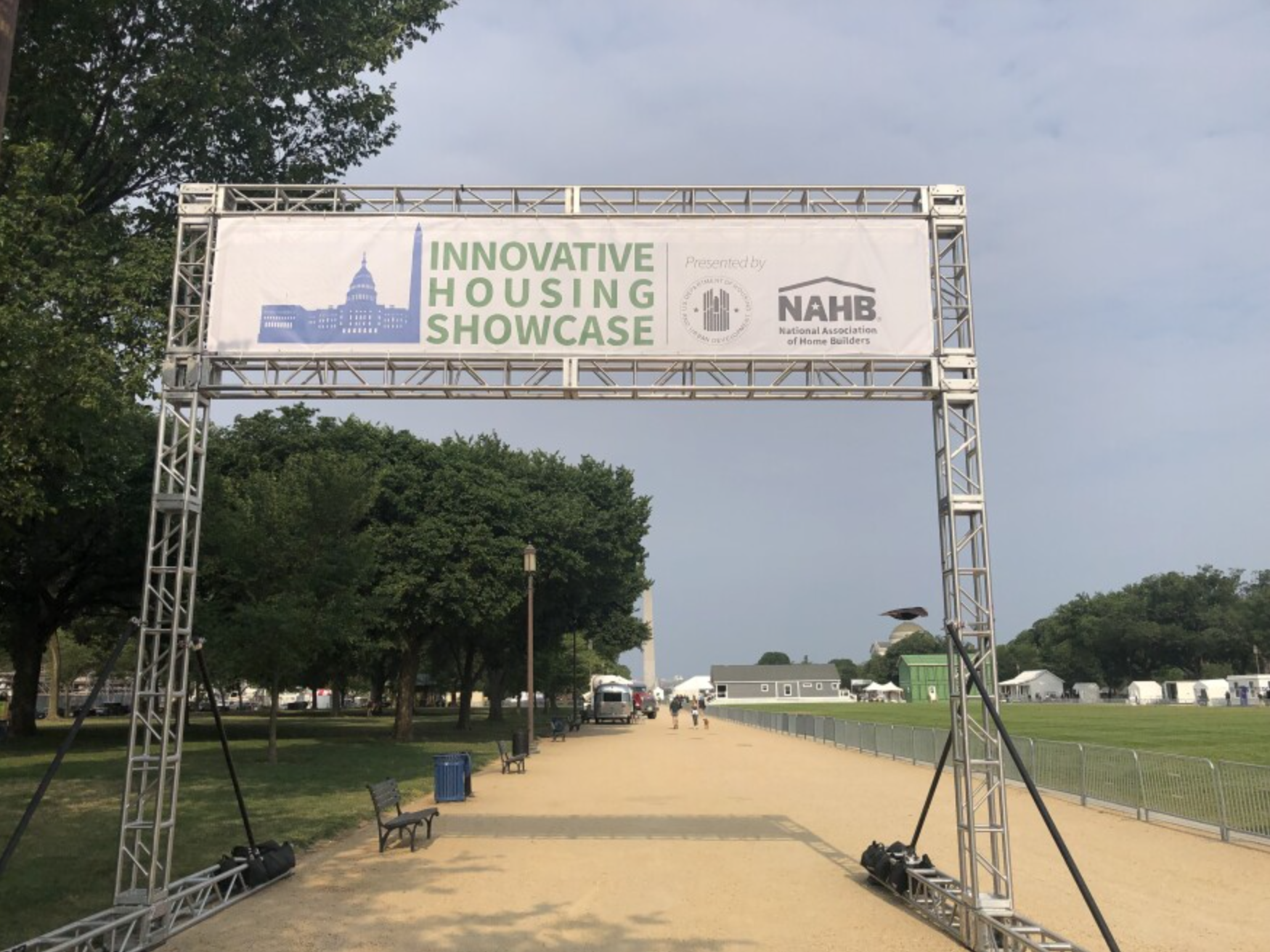 Department of Housing and Urban Development (HUD) secretary Marcia Fudge highlighted the importance of innovation and collaboration in creating the future of housing during her opening remarks at the 2023 Innovative Housing Showcase (IHS).
"We have a housing crisis in this country, and it hinders people's ability to purchase a home of their choice and start to build wealth within their family," Fudge said to a group gathered on the National Mall in Washington, D.C., prior to the beginning of the third IHS event. "Housing is one of the most important things you can deal with. Your home determines so much about who you are, where you go, where you work, how educated you are, and how healthy you are."
The three-day IHS features building technologies and housing solutions designed to make housing more innovative, resilient, and affordable.
"There is no silver bullet to solve the housing affordability crisis. Instead, there is an entire system that must work together to build a better tomorrow," NAHB chairman Alicia Huey said during her opening remarks. "I look forward to the next three days of learning and seeing the connection between the public policymakers and home builders. Together, we can bring home building into the future. Together, we can bring our country into the future."
More than two dozen exhibitors canvassed the National Mall, displaying full-sized prototype homes and innovative building technologies that address affordability and resiliency. The exhibitors included:
Structural Building Components Association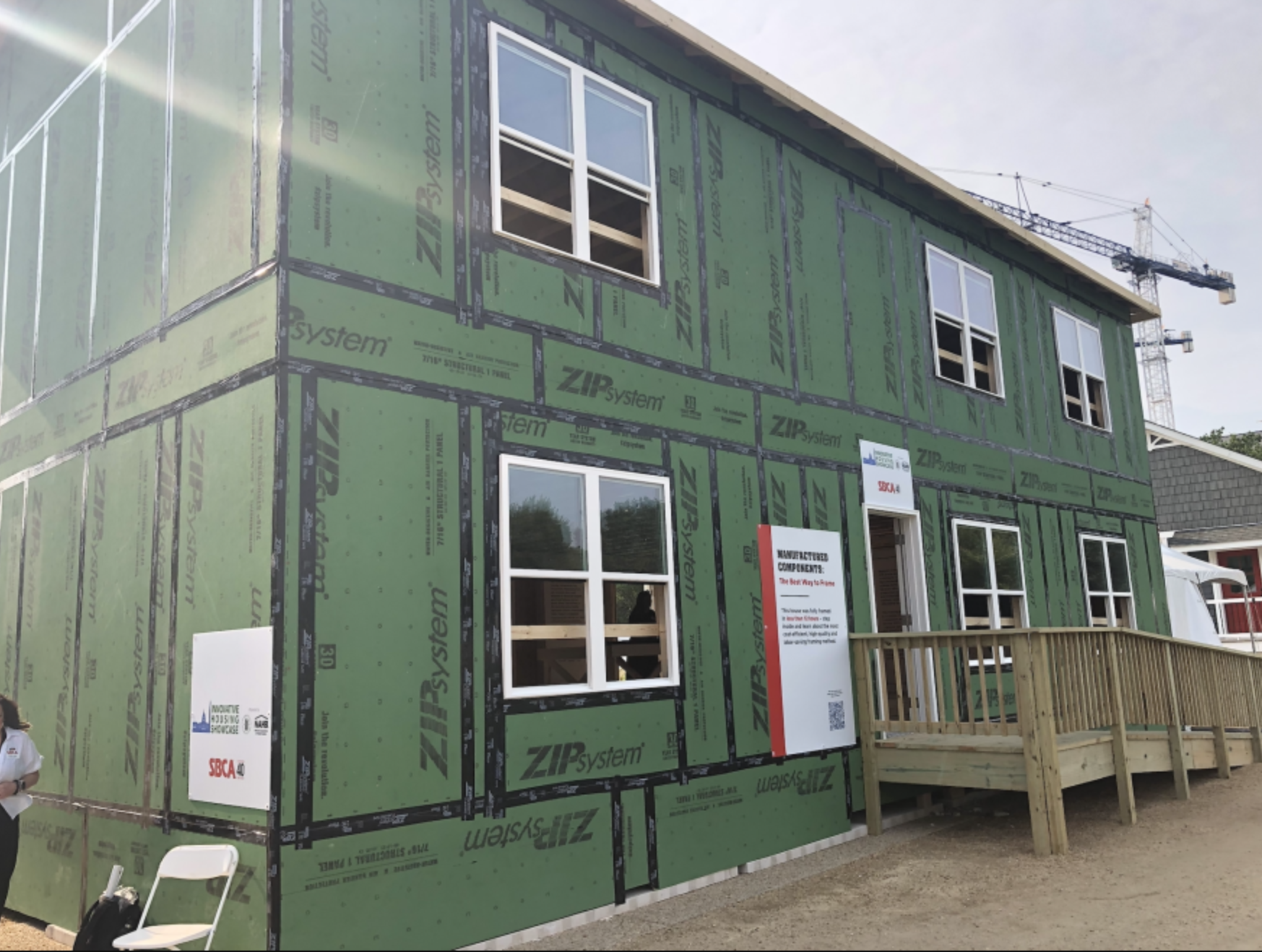 The SBCA installed a fully framed, two-story house on the National Mall in less than 12 hours utilizing manufactured components and cost-efficient, labor-saving framing methods. Signage inside the house highlighted the cost savings of component framing (an estimated savings of $20,495 compared with traditional stick framing) and labor advantages. The SBCA also highlighted resiliency benefits of component framing: Manufactured components are designed to exceed load requirements for improved durability and can be designed to accommodate advanced insulative materials for more energy efficiency.
Cypress Community Development Corp.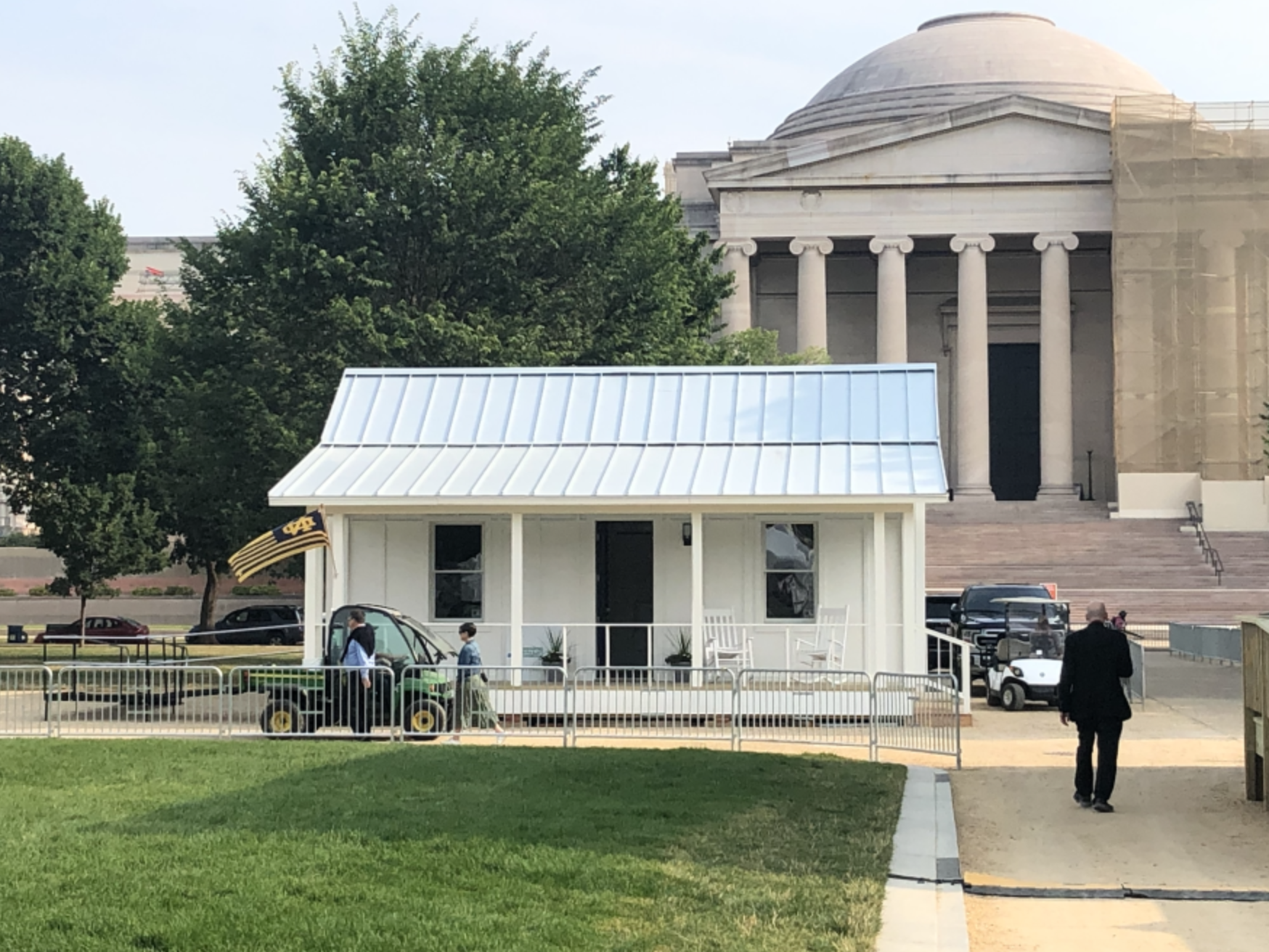 Marianne Cusato, designer of the Katrina Cottages, introduced her latest concept home, a 540-square-foot accessory dwelling unit (ADU). The display seeks to encourage conversation about federal disaster housing policy and workforce housing shortages. The concept home includes CAD-driven steel walls, a single layer of magnesium oxide (MgO) acting as sheathing and cladding, three types of insulation with cumulative properties insulating (R-20+) and air-sealing the home, semi-finished MgO subfloors, low-carbon interior siding replacing drywall, low-voltage lighting, and an all-climate HVAC system. Selections were chosen to promote the opportunity to reduce the complexity of the construction process while also meeting or exceeding building science and structural requirements.
The concept home also features panelized roof and floor structures with sheathing added off-site, prefinished wall panels, and precut porch elements as well as cabinets and countertops prepared off-site to highlight the potential of prefab construction for the future of housing.
UMH Properties and Cavco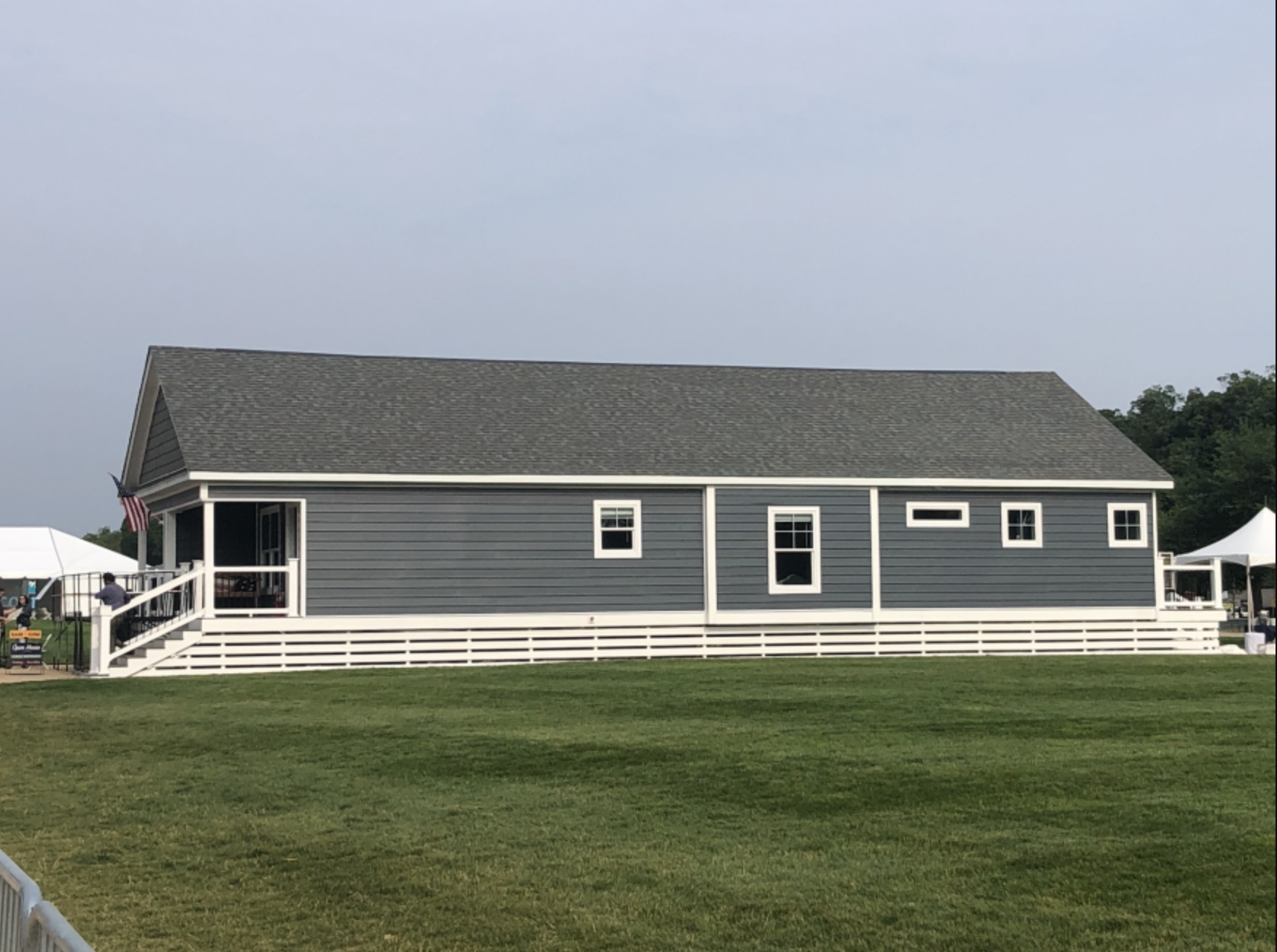 Public equity REIT UMH Properties, an operator of a portfolio of manufactured home communities, and Cavco, a producer of manufactured homes, installed a one-level duplex on the National Mall. The Sanibel Duplex model, built by Nationwide Homes, has two units sharing a common porch at the entry. Each unit has two bedrooms, one bathroom, and is 914 square feet with 885 square feet of living space. The builder says the multifamily option is ideal for infill projects and workforce housing. The model meets energy-efficiency requirements for designation as an EPA Energy Star Version 3.1 Single-Family New Home.
Azure Printed Homes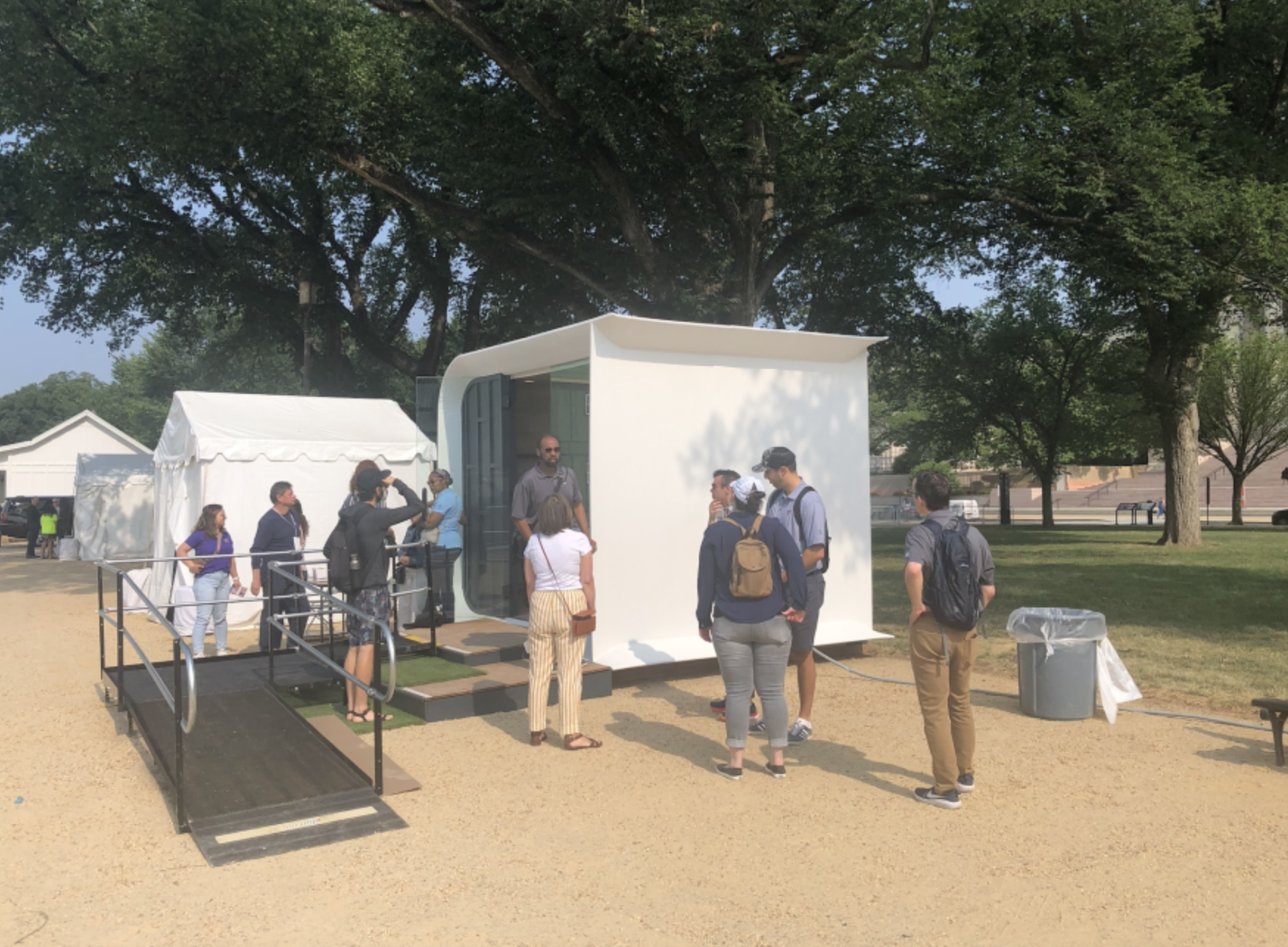 Azure Printed Homes displayed a 3D-printed home featuring recycled polymers. The company specializes in producing backyard studios, ADUs, and homes that are approximately 70% faster to build and 30% more cost-effective than traditional construction methods. According to the company, the print material delivers properties such as insulation, water resistance, printability, strength, stiffness, and impact resistance.
Connect Homes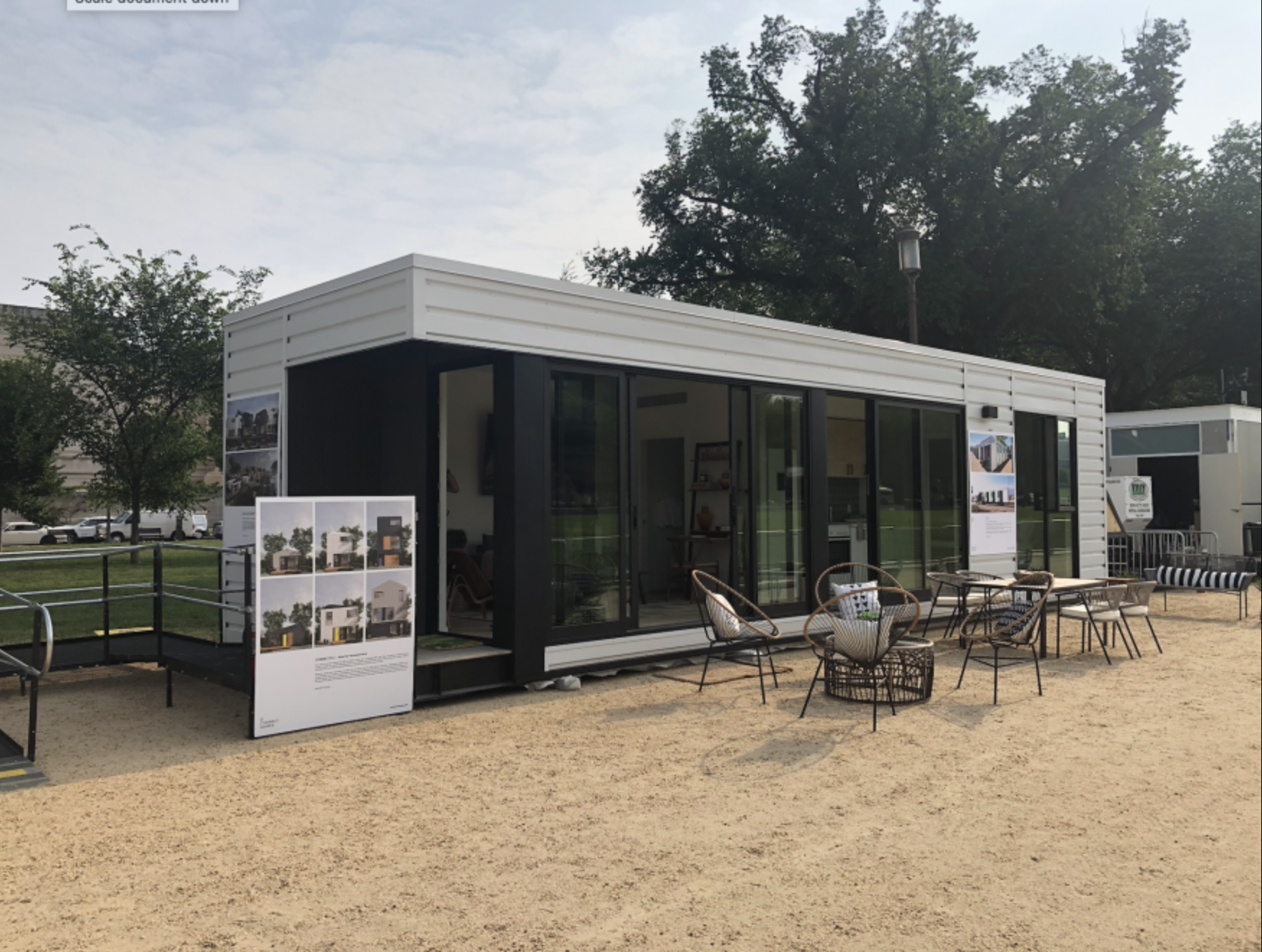 Prefab housing provider Connect Homes highlighted the Connect 1 ADU and its Connect Shelter system at the IHS. Connect 1 is a 460-square-foot ADU that is delivered complete and has been installed across California by the company. The one-bedroom, one-bath, open-concept space can be used as a private guest house or a rental property. Connect Homes says the ADU is an accessible way to provide more density on single-family-zoned lots.
The company's Connect Shelter System is a modular housing solution designed to assist with the homelessness crisis: Each shelter is divided into individual units, built to give people the security of their own private space and private entrances.
Boxabl