U.S. Supply Chain Meets with Canadians on Softwood Lumber Dispute
Originally Published by: LBM Journal — June 13, 2023
SBCA appreciates your input; please email us if you have any comments or corrections to this article.
The National Lumber & Building Material Dealers Association (NLBMDA) announced in an email to members that on Monday, June 5, NLBMDA and the National Association of Home Builders (NAHB) hosted a trade delegation from the Québec government for in-depth discussions concerning softwood lumber trade negotiations between the United States and Canada.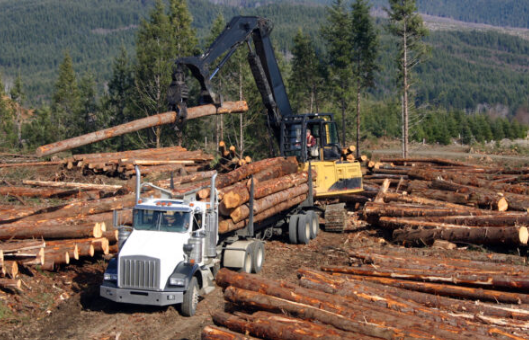 istock.com/Darinburt
Softwood lumber plays a critical role in the construction of housing as a primary material used for various structural components, including framing, flooring, roofing, and walls. The ongoing U.S.-Canada softwood lumber dispute has had significant economic implications for both countries, affecting the lumber industry, housing market, and trade relations. NLBMDA President & CEO Jonathan Paine and Director of Government Affairs Jacob Carter held strategic talks with NAHB and the Québec trade delegation led by Ambassador Raymond Chrétien, who served as the Canadian ambassador to the U.S. from 1994 to 2000 during the Clinton Administration and is now Québec's chief negotiator on softwood lumber.
"Québec has always been an ally of the United States, offering consumers on both sides of the border softwood lumber products of the highest quality, harvested and transformed in a sustainable manner," said Canadian Ambassador Raymond Chrétien. "Québec values its forest industry, which constitutes a strong economic sector, and believes in promoting strong relations between all parties involved."
"The meeting was very productive and allowed us to discuss the current market situation," said Jean-François Samray, president and CEO of the Quebec Forest Industry Council (QFIC). "We are still on the same wavelength regarding the US litigation. The US taxes have not only raised prices for consumers and builders, but have also contributed to the doubling of the proportion of wood imported from Europe. CIFQ remains committed to supplying quality, affordable and environmentally-responsible wood products to our U.S. neighbours."
The softwood lumber dispute is a decades-long trade debate over the structure of Canada's timber industry that intensified when the 2006 U.S.-Canada Softwood Lumber Agreement expired in October 2015. Since then, the U.S. has periodically imposed countervailing duties and anti-dumping duties on Canadian softwood lumber imports. In the latest round of the trade dispute, Canadian producers have been paying U.S. lumber duties since April 2017, leading to a decline in Canada's market share for softwood lumber in the U.S., falling from 33% in 2016 to 26% in 2022. The 2006 Softwood Agreement capped Canada's market share in the U.S. at 34%, but the U.S. timber industry has lobbied for a revised system that would include quotas to limit Canada's market share to 20%.
"Housing affordability is at its worst level in more than a decade and the increase in lumber costs in 2020 and 2021 easily added $50,000 or more to the cost of building a new single-family home," said NAHB's Chief Economist Robert Dietz. "With builder sentiment strengthening, NAHB is forecasting gains for the pace of single-family construction during the second half of 2023 and the start of 2024. Reliable access to softwood lumber is critical to meet the anticipated demand for residential construction, which will improve housing affordability while also creating jobs and bringing down inflation."
The economic impact of the residential construction is significant. The construction of 1,000 single-family homes sustains approximately 2,900 jobs and generates almost $328 million in economic activity for the overall economy. Furthermore, with more than 40% of consumer inflation attributable to shelter (housing) inflation, additional housing supply is needed to reduce inflationary pressure.
NLBMDA is heavily lobbying trade officials in the Biden Administration and the Commerce Department to pursue a long-term agreement with Canada that eliminates tariffs and brings stability to the supply and pricing of softwood lumber. The current tariffs on Canadian softwood lumber serve as a tax on American consumers that weakens the U.S. housing market and prevents access to affordable homeownership by destabilizing the lumber supply chain. American builders continue to get more than a quarter of their softwood lumber from Canada and have been hit with exorbitant tariffs that have fluctuated unpredictably since 2017.
"NLBMDA and NAHB hosted a productive meeting this week with a delegation from Québec that included Ambassador Chrétien to discuss the ongoing softwood lumber dispute between the U.S. and Canada," said NLBMDA president & CEO Jonathan Paine. "The accessibility of Canadian softwood lumber is critical to help address the affordable housing crisis in the United States. NLBMDA remains committed to working with government officials and stakeholders on both sides of the border to reach a fair agreement that promotes residential construction and economic growth on both sides of the border."