NFC Weighing In on ISANTA Air Tool Standard
Originally Published by: SBCA Magazine — July 27, 2022
SBCA appreciates your input; please email us if you have any comments or corrections to this article.
The National Framers Council is currently reviewing ISANTA's proposed revisions to the ANSI SNT-101-2015, "American National Safety Standard for Portable, Compressed-Air-Actuated Fastener Driving Tools."
According to ISANTA, several changes were made to ANSI SNT-101 primarily to improve safety and create greater consistency with ISO 11148-13, Hand-held non-electric power tools - Safety requirements - Part 13: Fastener driving tools.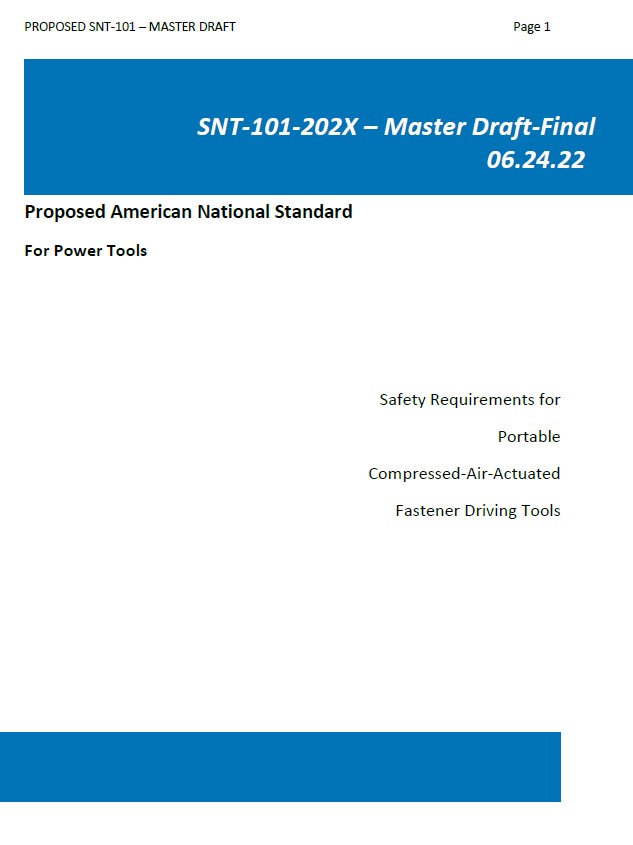 These include:
Definitions (Section 2) o Updated actuation system definitions to harmonize with ISO 11148-13 (single-sequential, full-sequential, contact, selective, automatic reversion, continual actuation, continual contact actuation, single actuation)

Updated definition of heavy-duty stapler to include finish nailers and harmonize with ISO 11148-13
Updated definition of production application, workpiece contact
Added definitions of special tools (multi-blow tools, pinners, single-blow tools, special application tools, tool without workpiece contact)
Added definition of trigger time-out period
Added definition for collating material

Added instructions for tools intended to drive fasteners into hard surfaces (Clause 3.1.3.3)
Added clauses regarding direction of discharged air and lubricants, ergonomics, tool markings (Clauses 3.1.5, 3.1.6, 3.2)
Tool operations – responsibilities of employer, tool owner and tool operator for safe use of the tool – were updated (Section 4.1)
Eye protection – upgraded requirement from ANSI Z87.1 to being marked with "Z87+" indicating for impact resistance, with side shields. (Section 4.2.1)
Added Nailer Work Procedures (Section 4.3)
Updated Tool Maintenance Instructions (Section 6.2.2)
Updated Tool Operating/Safety Instructions (Section 7.1)
Added requirements regarding tool lubrication (Section 7.4.6.3)
Updated requirements for tool inspection (Section 7.4.8)
Updated requirements for tool handling (Section 7.4.10)
You can review the proposed standard here. If you have any concerns with the standard as proposed, please reach out to Talia Zanotelli (talia@sbcacomponents.com) for potential inclusion in NFC's official response.