OSHA Prioritized Construction Site Inspections
Date posted
January 25, 2023
Originally Published by: Construction Dive — January 19, 2023
SBCA appreciates your input; please email us if you have any comments or corrections to this article.
OSHA inspected construction workplaces last fiscal year more than it inspected any other industry, an agency administrator told attendees during a presentation at Associated General Contractors of America's Safety and Health conference Wednesday.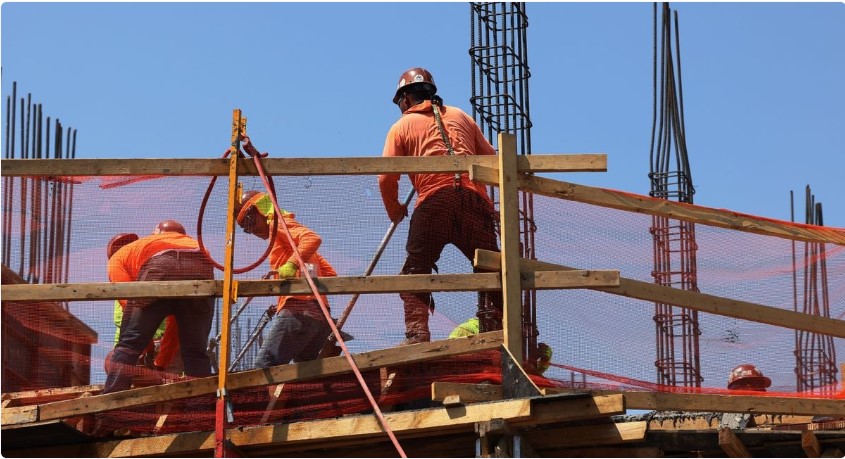 Falls remained the No. 1 cause of death on construction jobsites in 2021. Michael M. Santiago via Getty Images
Stephen Boyd, deputy regional administrator of OSHA's Region 6, offered a look at newly released construction fatality data and offered his thoughts on how to make jobsites safer. Boyd — who is based in Dallas and oversees several regional offices in Arkansas, Louisiana, Oklahoma and Texas — shared Bureau of Labor Statistics fatality data from 2021 and inspection information from OSHA's fiscal year 2022, which ended Sept. 30 (BLS data usually lags by a calendar year).
Falls remained the No. 1 cause of death on construction jobsites in 2021, with 378 workers dying as a result of a fall. That accounted for 38% of all jobsite worker deaths. Boyd said a large share of the falls happened on flat roofs or on skylights, likely because workers don't have the same instinctual sense of caution that comes from working on a pitched roof.
Many of construction's safety violations were on residential jobsites, and Boyd said 90% of those residential death and injury cases don't reach abatement, which in OSHA parlance means the resolution of a problem, payment of a fine or both.
Instead, many residential offenders will fold, change names or disappear in another fashion, making it impossible to track down those responsible and hold them accountable for failing to provide a safe workplace.
"There's really not a lot we can do as an agency," Boyd told conference goers, commenting on the sheer number of residential projects and limited resources. "It's a trend and it's probably going to stay a trend."
On the other hand, general contractors on commercial projects rely on their longtime track records and reputation in the industry more than small home builders, so they are affected more when they are not in good standing with OSHA. Therefore, they much more frequently abate their fines and citations, he said.
Inspections and programs
In fiscal year 2022, just over half of all OSHA inspections were of construction jobsites, Boyd said.
There's debate, he said, about whether or not compliance assistance or enforcement are key to protecting workers. Boyd said employers think compliance assistance is key, and internally, many at OSHA favor stronger enforcement.
In reality, Boyd said he finds them equally important.
This year OSHA will continue to work on developing new standards. For example, Boyd said plans for developing the heat illness standard will continue, though it takes a long time to bring it to fruition.
Employer-OSHA relationship
Boyd emphasized that employers have rights over their jobsite — such as to be present and able to see all hazards that an inspector may find during an inspection —- and that OSHA is responsible for following specific procedures when it comes to inspections.
He shared multiple stories about employers going above and beyond typical protocols to keep jobsites safe. In one example, Boyd said he had agreed to reduce the potential number of fines for a contractor using a broken and dangerous ladder if they simply got rid of it. Though employees seemed to merely put the ladder away, the superintendent produced the ladder and crushed it with the Bobcat to show Boyd and the workers that it was unacceptable to use.
Boyd indicated he thinks that OSHA highlights a lot of citations and other bad news to flex its enforcement muscles, but there is room for positivity.
"We don't publicize the good things that we see," Boyd said, saying that should change.