President's Message: A Race to the Future
Date posted
September 13, 2021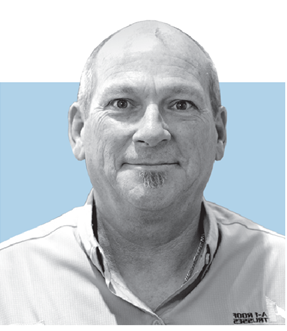 It's always been about where we need to go.
From the moment I took the position of president in October 2019 until today, I have been focused on the future of our industry. My ultimate motivation has continued to be for SBCA to help each of its members sell more components! To that end, I'm not content to run on a treadmill. Rather, I want us out there, running mile after mile and moving toward the goal of greater prosperity for every component manufacturing operation.
My time at the helm has definitely been a marathon. It started with the creation of SBCA's first strategic plan. While our industry has consistently been led by smart people who have made smart decisions, it was important for all of our members to weigh in and gather the collective vision of our industry's future and determine how the association can best assist members in getting there. Participation in that strategic plan was incredibly strong, and it gave SBCA leadership great confidence in creating a new mission and our strategic goals (see page 32).
Out of that strategic plan, we created a series of Strike Forces laser-focused on specific strategic goals, and members of each Strike Force brainstormed initiatives that would bring significant value to members. One example out of Strike Force 3 was a new approach to online education and training, which led to our new learning management system (LMS) and the birth of the SBCA Academy (see page 30). Another example out of Strike Force 2 is the Lumber Connection podcast, which provides our industry exceptional insight into lumber supply and demand as we continue to navigate a historically tough market (see page 26).
Simultaneously navigating the impacts of the pandemic on our individual business and the association was one of the most difficult things I think SBCA's leadership has been asked to do. With guidance constantly changing, states shutting down businesses, and an environment that created a lot of emotional turmoil for our employees, it was incredibly difficult to find a successful path forward. I know our company wouldn't have fared nearly as well if I hadn't had to opportunity to share ideas and intel with other members of our executive committee. Those conversations helped us generate resources and best practices for all our members to reference in dealing with COVID-19.
The pandemic also forced us to take a hard look at every aspect of the association. That deep dive led us to the conviction that our future success was dependent on taking full control of the association's management and staffing. It was not a decision arrived at quickly, nor was it taken lightly. I have to say it took a lot of guts and hard work by every member of SBCA's Executive Committee to get through the transition successfully. This group of men spent many hours, sometimes late into the night and on weekends, working through every detail. This was truly a group effort, and I have to give credit to each of them: Gene Frogale, Jeff Taake, Greg Griggs, Roger Helgeson, Joe Hikel, Steve Stroder, Scott Ward, and Larry Dix. I also have to recognize Kent Pagel, our legal counsel, for being an amazing workhorse throughout the entire process. If you see them at BCMC, please thank them for their selfless commitment and dedication to the future of the industry!
The biggest part of that transition was bringing on our own staff. I mentioned all the hard work of the Executive Committee, but it was matched and even exceeded by our first hire, Jess Lohse, SBCA's executive director. Time has shown he was 100-percent the right guy for the job, and I can't express enough love and respect to him for the job he has done. He has also gathered an amazing group of smart and talented people from across the country to manage the association going forward (see page 12). Over the final eight months of my term, the success of SBCA has really been about them and their excellent work.
My marathon is near the finish line, and I am excited about the people I'm turning the organization over to. Gene Frogale is an incredibly intelligent and passionate component manufacturer who cares deeply about SBCA and the future growth of our industry, and he will be an excellent president. Jeff Taake has a strong business acumen that will serve our association's financial management well as treasurer. Larry Dix also transitions to the officer position of secretary and brings a veteran and pragmatic perspective to every decision. I could not have asked for a more talented group of leaders and staff to take the association, and the industry, forward toward the future (see page 14).
I started coming to SBCA meetings in 1993, and in all those years I've only missed one BCMC and a handful of Open Quarterly Meetings (OQMs). It's exciting to have my son involved in the industry and have many others bringing the next generation of leaders into the association. It is encouraging to hear that group talk so passionately about technology, innovation, and collaboration. We are certainly in a better position today than when I started as president for us to take control of our destiny and expand the use of our industry's products and services throughout the construction supply chain!
Author: Mike Ruede, SBCA President