President's Message: We're Building It… So Come!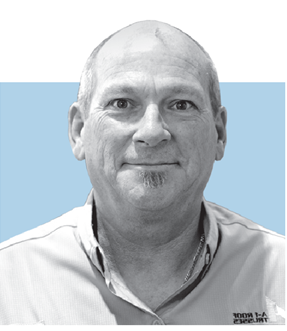 Can you feel it? The anticipation of something exciting right around the corner?
That's how I feel about traveling to Omaha, Nebraska, to participate in SBCA's in-person, absolutely-no-virtual-anything BCMC 2021. I cannot wait for October 5-8, to see this industry gathered together! Component manufacturers (CMs) from across the country can once again bring their challenges to one location and find collective solutions at the industry's premier event.
Where can these solutions be found, you ask? Everywhere.
If you're a framing contractor, sell to framing contractors, do installed sales, or simply want to connect with some framers, you can start the week attending the National Framers Council (NFC) Framer Summit. I frankly think every CM would benefit from attending this event to better understand what these framing professionals are focused on and learn how they want to partner with our industry. We need to be on the same side of the equation with those who install our products. We succeed and fail together. If you have challenges in this area at all, the Framer Summit is an incredibly cost-effective place to start toward finding a solution.
No BCMC would be complete without a robust collection of value-filled education sessions. This year's lineup includes an "Insight into Offsite" track with a lot to offer anyone looking to take advantage of the opportunity builders present, as they look for innovative partners in their supply chains. There is also an amazing track hosted by sales representatives and management focused on best practices to keep our customers happy while we also get paid for the valuable work we do. We will also have veteran CMs sharing best practices regarding automation, a remote workforce, contracts and risk management, employee wellness, and fostering greater collaboration between design and production teams. You have likely faced challenges in many of these areas, and these sessions will help you find several solutions.
While corporate COVID travel restrictions may or may not end up having an impact on the show floor, it certainly wont affect the quality of the conversations any CM can have with the suppliers who exhibit this year. Our supply chain is full of intelligent, innovative, and driven companies. They are continually improving their products and services, and BCMC is the only place to see all those advancements in one place. Whether you're ready to make a huge capital investment or you just want to know what might be possible in a few years, you don't want to pass up the chance to soak it all in and talk it out with fellow CMs.
In the end, the greatest value of BCMC is in the one-on-one conversations you will end up having with CMs you sit next to in sessions, dinners, and events, or after hours at supplier-sponsored events. Nothing else comes close to the opportunity BCMC gives each of us to share our struggles, our solutions, and learn together.
I would be wrong if I didn't recognize our new BCMC organizer, Ali Saladin, who is SBCA's events manager. Together with the dedicated and selfless individuals who serve on the BCMC Committee, Ali stepped up to the plate in January and is already hitting homeruns. That must be one of the reasons why the theme for BCMC 2021 is "Component World Series." Omaha is home to the College World Series, and now we'll bring our own version of the major leagues to Nebraska.
I hope you're ready because it's going to be awesome. If you're nervous, make sure to get your shots and know BCMC and convention center staff will be doing everything possible to make it a safe show. Then set your mind at ease, make your travel and hotel arrangements, register for the show by August 25 to get the lowest prices, and then come and find some solutions to your biggest challenges.
Author: Mike Ruede, SBCA President