Trusses Will Soon Be Assembled in Space?
Originally Published by: Fontana Herald News — June 25, 2021
SBCA appreciates your input; please email us if you have any comments or corrections to this article.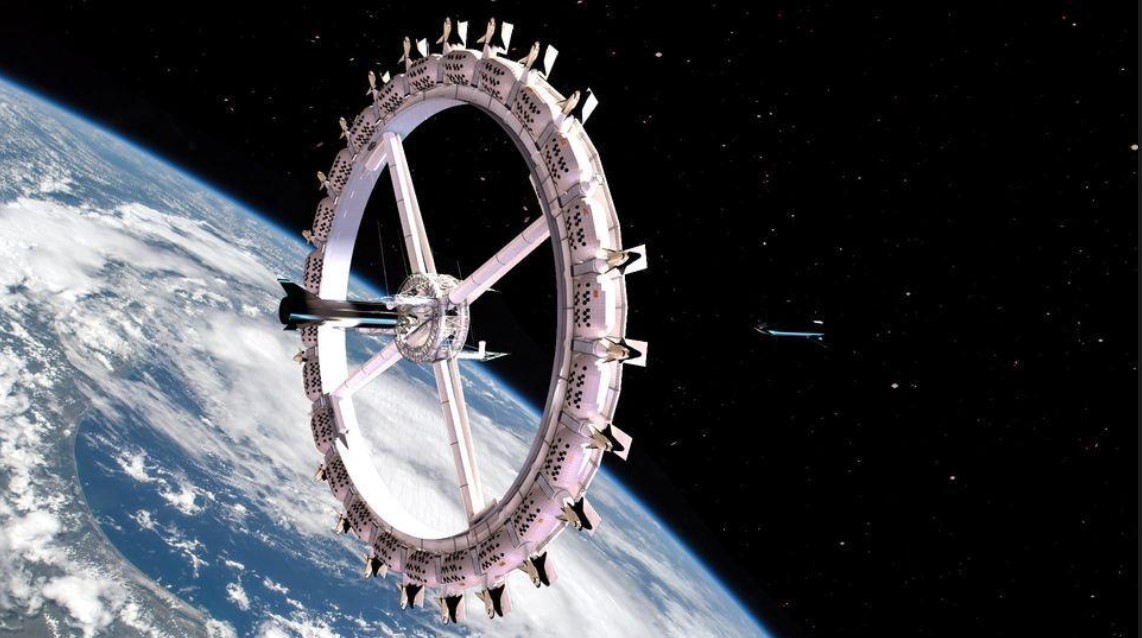 This depiction of spacecraft can be seen on the Facebook page of Orbital Assembly Corporation, which is based in Fontana.
Human spaceflight is a hot topic, and many companies throughout the world are intent on someday developing the capability of sending Earth's inhabitants into distant regions of the universe.
Despite facing enormous obstacles that may end up being impossible to overcome, these companies are determined to pursue their hopes and dreams.
One such company, Orbital Assembly Corporation, held a ribbon cutting event for its 14,000-square-foot facility in Fontana on June 19.
Orbital Assembly, which bills itself as "the world's first large scale space construction company," announced during the event that it had demonstrated technology it developed to build the world's first space hotel with gravity.
Orbital Assembly is calling itself a leader in industrial space development that would enable humanity to work, play and thrive in the space ecosystem. The company said it is developing semi-autonomous robotic machines capable of building and assembling large structures in space quickly and efficiently.
"Today we achieved our milestone in validating the Demonstrator Structural Truss Assembly Robot (DSTAR) fabricator," said Chief Operating Officer and Vice President of Habitation Tim Alatorre. "Watching the DSTAR assemble the six-ton truss framework and expand to the length of a football field as it will in space was a thrill for everyone. We are on track for our first mission launch deadline scheduled for 2023."
Gravity is essential for comfortable long-term habitation in space. The structure overcomes this obstacle by producing its own simulated gravity with slow rotation, Orbital Assembly said.
"Following this successful test, the mission in 2023 will launch the Prototype Structural Truss Assembly Robot ('PSTAR'), in low Earth orbit. It will assemble 52 meters (156 ft.) of truss in a circle, creating a 'ring'. Four on-board propulsion modules will 'spin' the ring, to demonstrate Orbital Assembly's construction capabilities with the PSTAR and delivering, for the first time ever, lunar levels of artificial gravity," Orbital Assembly said.
The ultimate goal: Once a Voyager Space Station is operational, guests would experience a string of luxury amenities like a health spa, gyms, themed restaurants, concert venues, Earth-viewing lounges and bars and accommodations for up to 400 people. Visitors would enjoy luxury villa accommodations with cooking facilities for up to 16 people or hotel suites for two guests. The hotel would be designed to welcome national space agencies conducting low-gravity research. All of this, presumably, would cost the guests huge amounts of cash.
There are plenty of skeptics who say this will never be accomplished. On the Orbital Assembly Facebook page, Rick Pinz wrote: "When I see it being built, I'll believe it then."
Back in March, Orbital Assembly received a fun shout-out from famous space expert Neil deGrasse Tyson on "The Late Show with Stephen Colbert."
Colbert discussed how private industries are getting into the space business and mentioned the plans for a space hotel. "Are you ready to book a room?" Colbert asked.
"Sure, but it would have to have restaurants," Tyson said, adding with a chuckle: "The problem is the restaurants might not have much of an atmosphere."
Orbital Assembly is keeping its dream alive. The company said on Facebook: "Stay tuned, it's going to be a fun ride."