Why the Truss Fab Purchase is a Game Changer
Originally Published by: The Builder's Daily — June 2, 2022
SBCA appreciates your input; please email us if you have any comments or corrections to this article.
Yesterday, an adjacent-market mergers and acquisition deal caught our attention. The deal speaks to a future-of-construction-forward bellwether, noteworthy beyond its strategic boost to buyer and seller in one of the nation's torrid new construction super-regions, the Southwest.
Building materials giant US LBM, Webb Analytics' No. 7-ranked Construction Supply 150 firm, announced it purchased Phoenix-based Truss Fab Companies, a 17-year-old multi-capability truss, components, panelization, and lumber powerhouse in the up-to-now scorching hot Southwest markets of Arizona, SoCal, Nevada, and New Mexico.
In US LBM's meteoric business growth runway – Webb Analytics notes that the company more than doubled in revenues (up 116%) from 2020 totals of $4.3 billion to a 2021 tally of $9.2 billion – adding Truss Fab gives US LBM clout and capability in an intensifying "arms race" competitive run with Builders FirstSource and the other construction supply behemoths jockeying for share and local scale.
For Truss Fab, founded by president and general manager Dean Rana with a few of his former Triangle Truss colleagues in 2005, the capital infusion and strategic integration deal opens some doors instantly – like immediate access to sorely-needed forklifts, thanks to US LBM's buying power and equipment "placeholders" – and others over time.
This is a great partnership with US LBM," Rana told us the day after the deal's announcement. "With our core customers being the framing contractors, we've been investing in the technologies to expand and modernize tooling and capabilities, and there are a lot of things I still want to do to bring the industry forward so that we can attract that next generation of talent we need to come in and shape the future. That means better software, more precision manufacturing, automation, robotics. Our partners at US LBM share that vision, and they understand the CapEx commitment that involves."
Calls to US LBM for comment were not responded to by our deadline. In a press statement, US LBM strategic leadership had the following to say:
The Truss Fab team has strong and lasting relationships with its customers, based on honest communication, exceptional customer service, and dedication to delivering quality products," said US LBM President and CEO L.T. Gibson. "Truss Fab complements our recent acquisition of Crown Components and existing R&K division to further expand our manufacturing capabilities in a thriving Southwest market."
Whelan Advisory Capital Markets acted as financial advisor to Truss Fab Companies.
A trifecta of cutting tools technology, data-digitalization, and robotics has begun to at least suggest ways to melt down what have almost been assumed to be impregnable barriers to advancing the end-to-end building lifecycle. In the race for primacy, local scale, and market share, ever more integrated factory-based multistack capabilities are emerging from both within and outside construction's community ecosystem.
The game is not simply about deals that take out time, cut out wasted materials and other human and physical resources, and achieving quality. It's about making a profit-motivated business a better one – one more magnetically attractive to brilliant, young business and technology solutions seekers.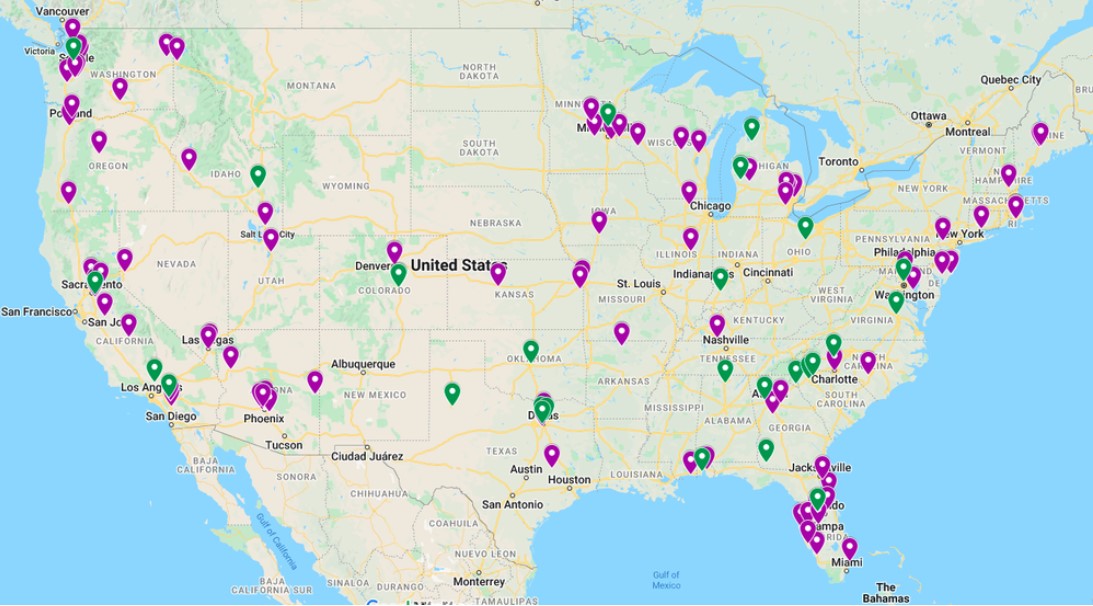 Truss plants, component facilities, and millwork operations that LBM dealers have acquired (purple pins) or opened (green) since 2018. Source: Webb Analytics research
The acquisitions that we're seeing now in the construction supply landscape reflect the '4th Quarter' of an acquisitions wave the business hadn't experienced since the end of the Great Recession," says Craig Webb, Webb Analytics founder and president. "This acquisition is consistent with dealers that have been focusing on the truss business in the big production markets – [aka Phoenix, which is being fueled by for-sale demand and a tsunami of single-family built-to-rent demand] – where their wider array of offerings can meet more builders' needs under one roof."
So now, there are not one but two ultra-marathon obstacle courses that challenge builders' and their partners' businesses in mid-2022.
One, of course, relates to the vastly front-loaded and committed investment players have in pre-construction resources and capability – lots, permits, horizontal development, infrastructure, etc. – and the question of risky gaps between short-term capital and its ability to stay above-water for what may work out to be delayed returns.
Mortgage rate hikes and inflation-driven prices together have eroded household payment power and caused a seemingly unstoppable juggernaut of homebuyers, to stagger, at least temporarily. An anxious business community-wide vigil awaits now, braced for stiffer headwinds – if not an outright superstorm – than they'd been planning for. What was never in question – big demand – has become one.
Apart from that, homebuilders and their partners face a longer-run obstacle course: Re-making residential real estate and construction's investment and operational value-generation model for modern manufacturing-era housing-as-a-solution. That means choosing to dismantle a "community of practice" that has weathered 20 decades and as many peak-to-trough housing cycles largely intact, and inventing ways to make homes and communities like
The two obstacle course challenges criss-cross, run concurrently, interfere with one another at times, and ultimately co-depend. If builders are ever to escape the throes of a recurrent boom and bust housing cycle, they need to reinvent, from the ground up, how to model for-profit monetization of lots with new homes and communities households both need and aspire to live in.
By the same turn, if they're ever going to be able to truly modernize into lean, technology-data-and-machine-learning powered living solutions platforms, they're going to have to make everything that doesn't make sense in the process today make perfectly logical sense – operationally – tomorrow.
Building's "community of practice" – unwieldy warts and all – has protectively buffered builders from some of the punishing economic, financial, and business forces that would actually have motivated progress without that protection. The degree to which building's "loosely coupled system" of global, national, regional, and hyperlocal practices somehow wind up functioning is one of the business' biggest barriers to progress.
For Truss Fab's Dean Rana, who'll continue to run point on leading Truss Fab as an integrated US LBM operation, that barrier is one of the big motivations to work with an organization with the might of US LBM.
We know our industry is behind the curve," says Rana. "What pushes me includes the fact that two of my sons have come into the business, and I want to push that envelope so that our team can attract more to our business. I listen to them say, 'why do we have to lift that and put it over there?' and I realize we have to modernize, add automation, robotics, machine learning because, after all, they're right to ask the question. It's their age talents who point out our inefficiencies, and it's up to us to force ourselves to progress."
Rana notes that timing could hardly be better to become part of a much larger, more patient capital pool.
We have headwinds in front of us," he notes. "Becoming part of the US LBM family gives us some sense of comfort that we can push ourselves to continue to grow and innovate even as we weather some of the difficulty ahead."
The endgame? A brand new "community of practice" that won't necessarily require that innumerable wrongs – i.e. 3,000 separate pieces and parts of a single-family home assembled by 25 or more separate trades -- always add up to a right.