Alpine Academy Launch Announcement
Originally Published by: Alpine, an ITW Company — February 23, 2022
SBCA appreciates your input; please email us if you have any comments or corrections to this article.
Alpine is pleased to announce the launch of Alpine Academy on a new Learning Management System (LMS). The new site, launched Wednesday, February 23, 2022, is a powerful educational tool designed to provide comprehensive software tutorials, training webinars, industry resources, software release guides, as well as other useful tips and tricks for Alpine customers. It features a streamlined, modern design, an improved user experience, intuitive navigation, and guided access to new designer training.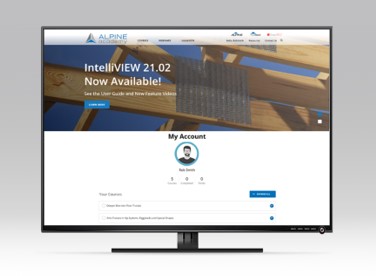 Introducing the New AlpineAcademyITW.com
"Alpine is committed to providing our customers with quality educational experiences. The new streamlined design of Alpine Academy is the latest addition to our commitment. New designers or seasoned professionals starting out on our software will find helpful tools to build skills that improve their process and quality of work. The site allows users to easily manage their educational journey with a simplified user interface and quick access to additional resources." said Martin Hauge, Alpine's Training Manager.
A Better Training Experience
The new easy-to-use interface provides Alpine customers access to new designer training as well as continuing education opportunities. The LMS will automatically save progress on courses and webinars while tucking them neatly way in the course history for reference. Users will also have the ability to bookmark lessons, webinars, and InsideVIEW information for quick access.
More Upgrades to Come
We're not finished – yet. The site will continue to grow with new features and enhancements over the coming months.
Alpine Academy provides an easy-to-use learning platform for new designers, continuing education, or information on software updates. Check out the Getting Started Video for a quick overview. Alpine customers interested in training or simply interested in exploring the new site - please visit https//www.alpineacademy.com. New accounts will take 24 hours to register. If you are already an Alpine Academy user and have logged in within the last two years, your account is ready! Simply login using the same credentials.
We hope you like the changes! If you have feedback or questions, please email training@alpineitw.com.