Capital Area Chapter Illustrates What Competitors Can Do Together
Originally Published by: SBCA Magazine — March 1, 2022
SBCA appreciates your input; please email us if you have any comments or corrections to this article.
If you were fortunate enough to attend the most recent meeting of the Capital Area Chapter of SBCA, you came away with a lot of ideas and information to help you plan ahead for the coming months. The meeting was perfect illustration of what is possible when component manufacturers (CMs) in a market gather together and pool their collective perspectives.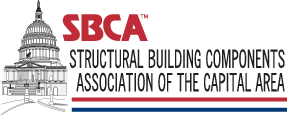 First and foremost, a collective, engaged audience of CMs draws a crowd of individuals willing and eager to present information. At the Capital Area Chapter meeting, TPI Executive Director Jay Jones attended and presented an update to the ANSI/TPI 1 standard, which will shortly go out for public comment. SBCA Executive Director Jess Lohse also attended and gave an overview of the latest version of the SBCA Digital QC software, which is being beta tested by several CMs across the country. This is an extremely valuable program the SBCA Executive Committee has decided to make free to all members.
Representatives from MiTek, Alpine, and Simpson all provided perspectives on steel costs and availability, along with important updates on plate-stamping capacities and equipment lead-times. In addition, an economist from Zonda provided an in-depth regional housing forecast that provided valuable data on everything from area employment to headwinds facing home builders.
It's very difficult to get this level of business intelligence for free on your own. If you aren't already tied into a local SBCA Chapter, this is the year to get involved. 2022 promises to be a difficult year to navigate, but charting the right course can be made easier with the help of your fellow CMs.
Contact Talia Zanotelli (talia@sbcacomponents.com) today if you'd like to learn more about getting involved in your local chapter.