Big Boxes Lay Plummeting Q4 Sales Numbers on 'Lumber Deflation'
Date posted
March 21, 2023
Originally Published by: HBS Dealer — March 13, 2023
SBCA appreciates your input; please email us if you have any comments or corrections to this article.
Some of the industry's biggest sellers of lumber and plywood have all felt the effect of sagging lumber prices.
In recent weeks, The Home Depot, Lowe's, and Builders FirstSource have pointed to lumber having a big impact on fourth quarter 2022 sales and beyond.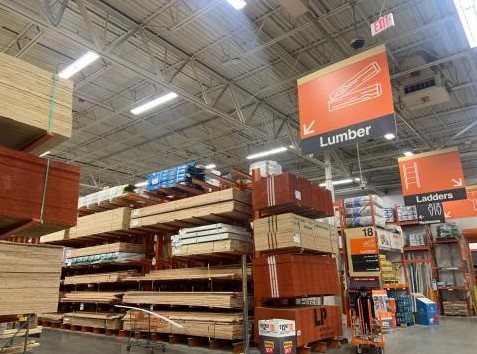 Prices at The Home Depot's lumber section have declined considerably in the past year.
During The Home Depot's fourth quarter earnings conference, Executive Vice President Jeff Kinnaird said, "during the fourth quarter we saw a significant decline in lumber prices relative to a year ago. On average, lumber prices were down over 50% year over year. Given this dynamic, comp sales were negatively impacted by approximately 70 basis points in the fourth quarter."
At Lowe's fourth quarter 2022 earnings presentation, Lowe's Chairman, President and CEO Marvin Ellison was asked about what had changed in the fourth quarter that might have prompted the retailer to lower its expectations for the first quarter of 2023.
"At a high level, it's lumber deflation. That pretty much sums it up," Ellison responded.
Around the same time both The Home Depot and Lowe's provided their fourth quarter and year-end financial reports, the Bureau of Labor Statistics' Producer Price Index data indicated that lumber and wood products declined 0.6% in January and fell 12.3% year-over-year.
"It's been a very turbulent couple of years in the lumber market."

Ted Decker, Home Depot
While softwood lumber prices saw a 5.4% decrease for the month, the cost has plunged 44.1% since January 2022.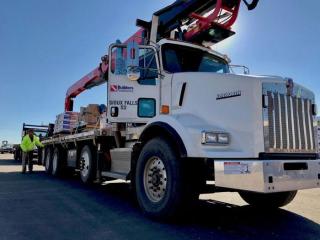 For the full year, Builders FirstSource reported that sales climbed 14.2% to $22.7 billion.
"It's been a very turbulent couple of years in the lumber market," said Ted Decker, CEO of The Home Depot. "To give you an example, what we faced in the fourth quarter on the framing side, lumber was $420 per 1,000 board feet on average compared to $886 per 1,000 board feet on average in 2021."
"To put that in retail dollar cents for everyone, a 2x4 stud, which is one of our top unit movers in the business retailed on average for $3.40 in the fourth quarter this year. Last year, it was over $5," Decker explained. "As you look forward into the front half, that same 2x4 stud was over $10. It's now $3.50."
But with that lower cost, there is a bright side as Decker noted that The Home Depot will see "good unit productivity and certainly an opportunity to drive more project-related business."
And sales to pros at The Home Depot outpaced DIY sales during the fourth quarter as contractor backlogs remained elevated.
Looking ahead, Lowe's Executive Vice President and Chief Financial Officer Brandon Sink said, when considering the impact of lower lumber prices, "we are expecting a nearly 300 basis point headwind to sales in the first quarter and a 100 basis point headwind to sales in the second quarter."
In Dallas, Texas, home of Builders FirstSource — the nation's largest prodealer with more than 500 locations — the company saw fourth quarter 2022 sales slide 6% to $4.4 billion.
Builders FirstSource reported that lumber and sheet good sales dropped 34.7% to $1.1 billion from sales of $1.7 billion for the same period a year ago. For the full year, lumber and sheet good sales decreased 4.3% to approximately $8.1 billion. Lumber and sheet goods accounted for 25.2% of the company's sales in the fourth quarter and 35.6% for the fiscal year.
"While economic conditions have become more complex in recent months, I am confident that our exceptional geographic and end-market exposure as well as our experienced management team will lead us to achieve our strategic growth priorities," Rush said.
The company's strategy includes widening its presence in the building solution services market.