Blueprint Building CLT Production Facility Near Baltimore
Originally Published by: Hartford Business — May 1, 2023
SBCA appreciates your input; please email us if you have any comments or corrections to this article.
A Baltimore-based company that produces wood-frame construction products is planning to build a 450,000-square-foot production facility in Windsor, which it says will help ameliorate the multifamily housing shortage in Connecticut and beyond.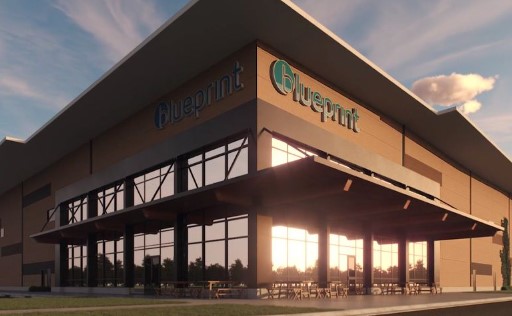 A rendering of Blueprint's proposed 450,000-square-foot production facility at 11 Goodwin Drive in Windsor. It will be the largest North American industrial building constructed entirely of mass timber.
Construction on the facility — said to be the largest North American industrial building erected entirely of mass timber — is expected to begin this summer, according to Blueprint CEO Jerome D. Smalley.
Blueprint produces wood-based products for multifamily housing developments, including apartments and senior living facilities, and then delivers and installs them at the construction site. It emphasizes green building techniques, including carbon sequestration — a practice used to remove planet-warming carbon from the atmosphere, Smalley said.
"We don't produce lumber. We produce the building," Smalley said in an interview with the Hartford Business Journal. "We use lumber as our medium. We produce the structural system, the framing system and the mechanical systems — electrical, plumbing and fire protection systems — for an apartment building. We produce them and then we ship them to the job site and install them on our customer's foundation."
Smalley said the Baltimore facility is operating at full capacity, prompting the company to look at expansion options.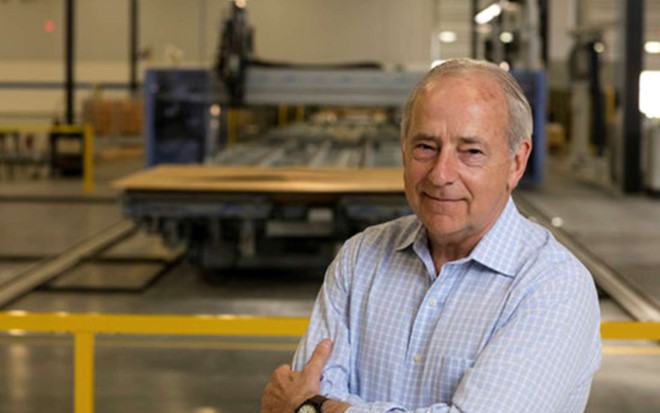 Jerome Smalley
"The Baltimore plant has been quite successful," Smalley said. "We are seeing increasing demand for our product and looked to the Northeast United States for a location to build a second plant. After a site search, we came upon the site that we've identified."
Addressing the housing shortage
The new facility will be 2.5 times larger than the existing one, though the company will maintain its headquarters in Baltimore. The mass timber facade will give it a distinctive look, while providing an environmental benefit.
"It's the most climate-friendly solution we could accommodate in this case," Smalley said. "That means we are building a carbon-sequestering product of mass timber in lieu of a traditional concrete tilled-up building."
It will be constructed on a vacant lot at 11 Goodwin Drive, just to the north of a large Amazon warehouse, near Day Hill Road.
Smalley said the plan is to open the facility in the third quarter of 2024. Blueprint received zoning approval to subdivide the property in early April.
The company partnered with real estate firm JLL to select the site, and chose the Windsor location because of its proximity to Interstate 91 and Bradley International Airport, as well as the region having a "historical position in manufacturing," Smalley said.
The expansion also addresses a nationwide problem: the lack of multifamily housing.
Demand for new apartments is evinced by double-digit rent increases in many markets, as developers are unable to build new apartments quickly enough to meet demand.
"I think it's pretty well recognized that there's a housing shortage in the U.S.," Smalley said. "The demand for multifamily is significant and we provide a technologically enhanced off-site building system that eliminates much of the risk in traditional off-site building."
The U.S. needs 4.3 million more apartments by 2035, as it continues to lose affordable housing units, according to real estate analysis firm CoStar.
The U.S. lost 4.7 million affordable units — that rent for less than $1,000 per month — between 2015 and 2020, according to a study commissioned by the National Apartment Association and National Multifamily Housing Council.
"We are not building enough multifamily on a national level," according to CoStar News.
As of July 2022, total apartment inventory in the U.S. stood at nearly 18.4 million units and was expected to grow to roughly 20.1 million units in five years, or an average of 320,000 units per year, according to CoStar.
Connecticut needs to average about 500 new apartments each year just to keep up with the demand, according to Jim Lapide, vice president of advocacy and strategic communications at the National Multifamily Housing Council.
In his two-year, $50.5 billion proposed budget, Gov. Ned Lamont allocates $600 million for affordable housing programs, with an ambitious goal to create 6,400 new apartment units in the state over the next two years.
Blueprint's expansion will grow its service area to include Connecticut, along with a 300-mile radius from the Windsor plant.
Using its current facility, the company has produced building products for developments in Pennsylvania, New Jersey, New York, Maryland and Washington, D.C. Its service area ends at New York's Westchester County.
At the new facility, Blueprint will fabricate cross-laminated timber (CLT) — a first for the company, which will give it more control over the supply chain.
Cross-laminated timber is a type of engineered wood composed of several layers of pressed lumber, making it especially durable.
Also, the new facility will add fabrication of mass timber components to Blueprint's production line. Smalley said CLT and mass timber fabrication are beyond the capabilities of the Baltimore plant.
"Western European companies (currently) fabricate (CLT) for us," Smalley said. "We can fabricate it in the new plant. I'm making a distinction between producing and fabricating, meaning that we cut it, we saw it, we drill it, we prepare it for installation."
Smalley said Blueprint can produce wood products more efficiently, with greater precision and less risk than traditional methods.
"We provide a greater degree of cost certainty, a higher degree of quality and a more sustainable product, and we do it faster," Smalley said.
The Windsor facility will employ about 120 people. Entering the Connecticut market may have other benefits for the state, Smalley said.
"We're a contractor," he said. "So, we're not the developer of the property. But we certainly think that it will bring advantages to the multifamily building industry in Connecticut."
Renée Dobos, CEO of nonprofit affordable housing developer Connecticut Housing Partners, said Blueprint's Nutmeg State presence will help strengthen partnerships between nonprofits and the state's Department of Housing to lower the per-unit cost of construction and possibly allow more apartments to be placed into service.
"The cost to build affordable housing increases annually and we are always looking for ways to save on construction costs," Dobos said. "It is very exciting to have a new business like Blueprint in the state to not only provide an alternative source for framing buildings, but also the jobs that will be created."
Company: Blueprint
Industry: Construction services
Top Executive: Jerome D. Smalley, CEO
HQ: 1500 Broening Hwy, Baltimore, Maryland
New CT facility: 11 Goodwin Drive, Windsor
Website: blueprint-robotics.com
Contact: 443-927-9027