Charts: As Lumber Rises, Materials Post Record YOY Increases
Date posted
November 16, 2021
Originally Published by: Eye on Housing — November 9, 2021
SBCA appreciates your input; please email us if you have any comments or corrections to this article.
The prices of goods used in residential construction ex-energy climbed 0.8% in October (not seasonally adjusted), according to the latest Producer Price Index (PPI) report released by the Bureau of Labor Statistics. The increase comes on the heels of two consecutive monthly declines largely driven by steep declines in lumber and plywood prices. The price index of services inputs to residential construction decreased 1.3% in October as a reduction in the gross profit margins of wholesalers and retailers outweighed continued increases in transportation, warehousing, and professional services.
Building materials prices have increased 12.2% year-to-date after climbing 4.5% over the same period in 2020. In contrast, the price index of services inputs to residential construction has increased less in 2021 (+8.1%) than it did over the first 10 months of 2020 (+12.0%).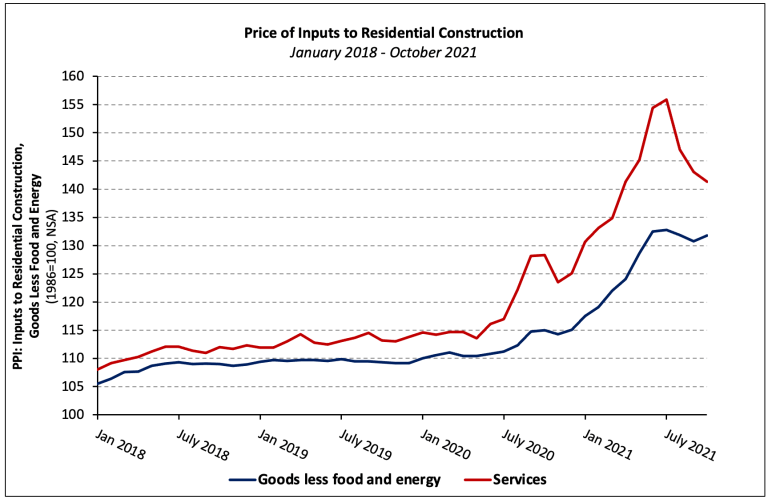 The price of all goods inputs to residential construction (including energy) has risen 14.5% thus far in 2021, climbing more than eight times faster than over the first 10 months of 2020. The year-to-date increase is double that of the previous year-to-date October increase (+7.1% in 2008).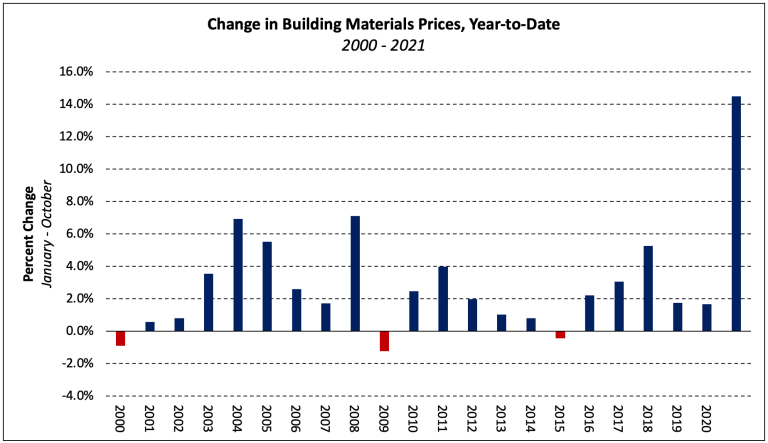 The PPI for softwood lumber (seasonally adjusted) increased 9.1% in October—its first monthly increase since May. The index had declined by more than half over the four months prior but, as was noted in last month's PPI post, the recent trend of cash prices "[suggested] the softwood lumber PPI [would] increase in October."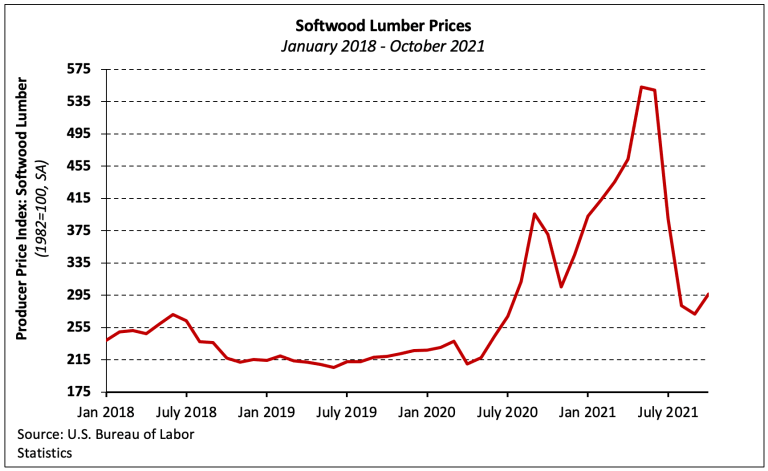 The PPI of most durable goods for a given month is largely based on prices paid for goods shipped in the survey month. This can result in lags relative to cash market prices during periods of long lead times.