Here's What Happened at the Williamsburg OQM
Originally Published by: SBCA Magazine — May 23, 2022
SBCA appreciates your input; please email us if you have any comments or corrections to this article.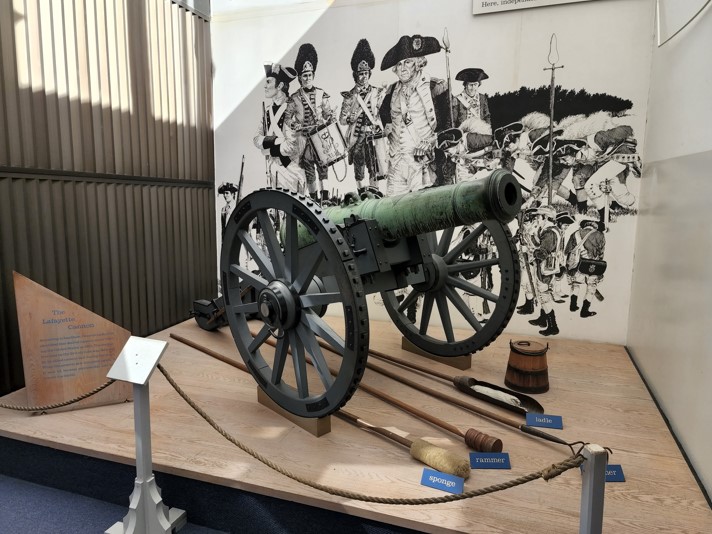 SBCA president Gene Frogale welcomed people to the birthplace of the United States as he took several attendees of the SBCA Open Quarterly Meeting (OQM) on a tour of the Siege of Yorktown battlefield, hosted by the Capital Area Chapter of the SBCA. "There is so much American history captured in the soil of Virginia," says Gene. "Yorktown is where George Washington's colonial army, with the help of the French, finally defeated British General Cornwallis and started the end of the Revolutionary War." The OQM, held in nearby Williamsburg, Virginia, was full of plenty of highlights, here is a quick recap.

Safety
On Monday afternoon, a dozen component manufacturing industry safety professionals and SBCA staff gathered to start what will certainly be an on-going discussion about safety in the component manufacturing industry. The discussion highlighted how crucial safety training must be for all new hires, who are most likely to get injured, and how safety training must encompass a variety of methodologies including classroom training, in-person training, on-going surveys, partnerships with consultants from outside of our industry, and more. This first conversation laid the foundation for a new approach and set of resources SBCA can develop to elevate safety in the component manufacturing industry going forward.
TPI 1 Revisions
OQM attendees had an opportunity to get an update from Jay Jones on the draft BSR/TPI 1-2022 (revision to ANSI/TPI 1-2014) National Design Standard for Metal Plate Connected Wood Truss Construction. The Public Review & Comment period is open until June 20, 2022. The draft BSR/TPI 1-2022 establishes minimum requirements for the design and construction of Metal Plate Connected wood trusses. Those wishing to participate in the Public Review of the draft BSR/TPI 1-2022 standard should visit TPI's website.
Digital QC
The wait is finally over! SBCA's Digital QC program is now available to all component manufacturers (CMs). Software developer Q4US, with the invaluable input of several CM alpha- and beta-testers, has brought this mobile-friendly software across the finish line. SBCA executive director Jess Lohse gave attendees a quick software demo and showcased the user-friendly interface and discussed the robust data reports that will now be possible. Go to SBCA's Digital QC website, listen to Jess' Digital QC podcast, and attend an upcoming Digital QC webinar to learn more. Be sure to join the waitlist today to begin the onboarding process.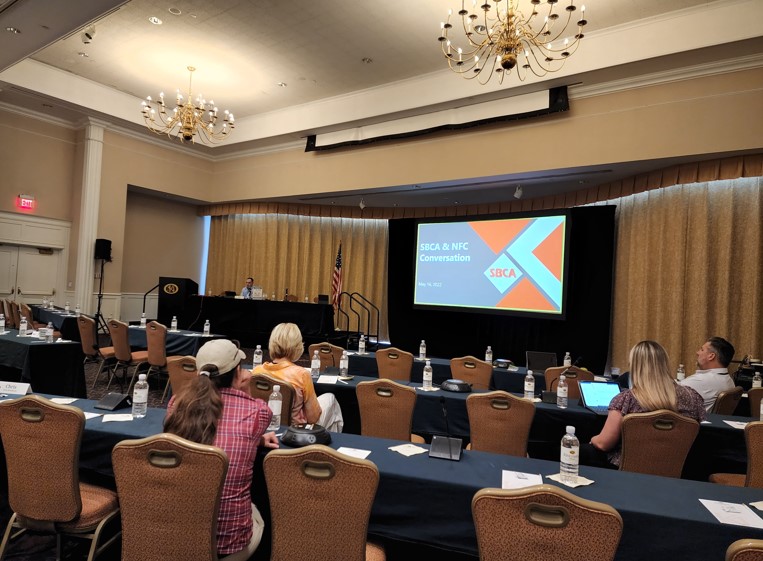 BCSI Best Practices
There was a lot of discussion around the importance of SBCA's Building Component Safety Information Handbook (BCSI) and the value it provides to CMs from a risk management perspective. A subcommittee was formed within the Marketing Committee to focus on how to get BCSI into the hands of more framers, building officials, architects, and engineers. Further, SBCA's Jobsite Packages are an incredibly effective way to get BCSI concepts into the hands of the people who matter the most: installers. If you aren't already taking advantage of this incredibly cost-efficient method ($5!) for improving the onsite installation process and reducing your exposure to risk, check out Jobsite Packages in both physical and electronic formats.
Framer Engagement
Speaking of installers, several members of the National Framers Council (NFC) attended the OQM to interact with CMs and also meet to discuss how they continue to drive value to the framing industry. Their presence was clearly felt and appreciated and it underscored the growing collaborative relationship between NFC and SBCA. Framer engagement with the NFC is a great way to up their game and tap into a treasure trove of framing best practices, from safety and risk management to business management and contracts. Every CM will benefit from having the framers they work with belong to the NFC, encourage them to join today.
Strategic Planning
Members took time to review the process and value of SBCA's first strategic planning effort in 2019. It was agreed this is an extremely important endeavor for the association to ensure it continues to focus on efforts to deliver maximum value to the membership. There were several observations on how the process could be improved for the next cycle, which will commence later this year. Watch for more information on how you can provide your perspective on future SBCA activities.

Advocacy
SBCA continued to protect the best interest of the component manufacturing industry. At the OQM, SBCA staff recounted how a coalition was built to defeat a harmful truss bracing code change proposal at the recent Code Action Hearings for the 2024 IRC. In addition, SBCA worked with industry partners to understand and advocate against a rule change proposed by the U.S. Department of Labor to change enforcement of the prevailing wage provisions with the 1923 Davis-Bacon Act. SBCA is also proactively promoting the benefits of roof trusses, wall panels, and floor trusses to government officials, builders, and the public by exhibiting at the 2022 Innovative Housing Showcase sponsored by the Dept. of Housing and Urban Development (HUD) and NAHB. SBCA, in collaboration with its CM, supplier, and framer members, will be constructing a two-story house on the National Mall June 10-12.

Competition
Finally, SBCA's EL Committee hosted a Pinewood Derby tournament for OQM attendees. These races were a dry-run in preparation for the industry-wide tournament that will be held at BCMC in Columbus, Ohio, September 12-16. A total of 24 cars entered the tournament, which ranged from a block of SPF on wheels to a crane delivery truck replete with trusses. The competition was surprisingly fierce on the aluminum track sponsored by 4Ward Consulting Group, and kudos go to the tournament winner, Wes Robbins of Quick-Tie Systems. Be sure to include the tournament in your BCMC registration, craft your car, and be ready to have a lot of fun racing it in Columbus!
Boston OQM
If you missed the Williamsburg OQM, you have another chance to engage in these valuable industry events at the next OQM in Boston, Massachusetts, July 25-27. Registration is now open, we hope to see you there.