President's Message: Open for Business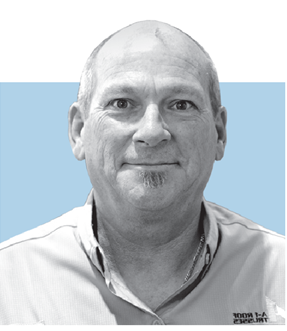 We are moving forward quickly, we want you to come along!
Do you feel the change happening? The housing market is evolving right before our eyes, whether it's the push to move more labor off-site or the subtle shift from build-to-sell to build-to-rent. Our industry has been bearing the brunt of raw material fluctuations for decades, but this latest run is finally causing pain for everyone, and it's got the full attention of everyone in the supply chain. Katerra and their cash-burning disruption engine might have failed, but they made clear there is a big appetite to find a better way to construct buildings.
Who better to be at the forefront of change than us? We are all in the business of creating and manufacturing innovative, custom-made products on every job. We are the most inspected, scrutinized and regulated entity in the entire construction supply chain. We also have the most rigorous quality control process governing our final product. We are the one supplier to the builder who has always been heavily invested in adopting the latest technology to enable the best framing methodology. We understand the building design and the code, we understand the framing, and we understand the transportation and scheduling logistics. We have to be experts in it all!
So, if things are changing, it doesn't make any sense for us to be anywhere but at the forefront of it all, and SBCA can help us do that.
For too long, I feel as though the association was not readily responding to change. We may have even held ourselves back. But no longer. We are now more focused on market development. Our team is refreshed and ready to tackle whatever challenge they encounter. We are open for business and want to work with anyone and everyone in the supply chain to move our industry forward and increase the market opportunities for every single component manufacturer and supplier to this industry. We want to help you raise your game and become even more essential to your customer and be recognized as the ultimate professional in the construction supply chain.
In my mind, this means we need to help everyone be the best they can be. It means everyone should be sending a jobsite package out with every delivery. It means everyone should be participating in Digital QC and third-party QA. It means everyone should be utilizing all the industry-specific best practices we've developed and honed over the years and become SCORE-certified. It means everyone should attend BCMC to network with their peers from the across the country, share ideas, and find solutions, all while checking out the latest equipment and services available to us. It also means we need to pursue the next step together.
We need to identify what our counterparts in Europe and Australia are doing. Imagine 150 U.S. component manufacturers and suppliers going to the next LIGNA trade show in Germany and seeing all the technology they're developing for their markets. An event like that could be transformative if a critical mass captured those ideas, brought them back here, and then formulated a strategy on how to implement some of it in the U.S.
But we're not waiting until the LIGNA show in 2023 to start pushing forward. We are building a strong partnership with the Home Innovation Research Labs (HIRL) in order to have better market data for more informed strategic decisions. We are reaching out to our customers within the National Association of Homebuilders, growing our National Framers Council membership, and building in-roads with lumber-buying cooperatives and other LBM groups to ensure we are expanding our lines of communication with every one of our customers. We want to work with all of these groups to educate our customers not only on what we do so well now, but also what innovative solutions we can provide for them going forward to address their biggest pain points.
If you want to be part of this transformation, if you want to have a say in the direction we push, I want to encourage you to take the next step. Come to BCMC in Omaha, Nebraska, October 4-8. It's the easiest, most cost-effective way to get engaged and share your perspective. I hope to see you there!
Author: Mike Ruede, SBCA President