Best practices for new drivers
As I write this, the NFL playoffs are in full swing. Every weekend, millions of Americans are watching quarterbacks trying to lead their teams to the Super Bowl, one play at a time. I get particular enjoyment out of witnessing a talented QB recognize and overcome a blitz. It takes a lot of skill, practice, and teamwork for them to keep their attention on what's important when so many players are trying to stop them.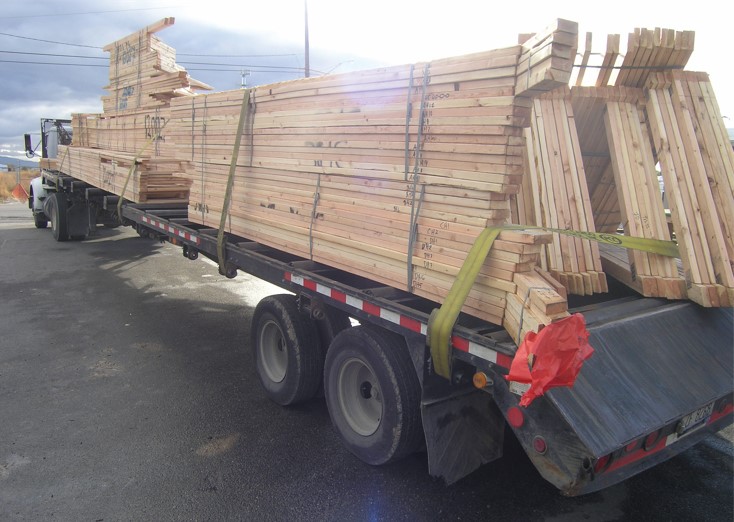 This is an appropriate metaphor for business. Over the past year, I have spoken with several business owners who felt like a blitzed quarterback. The challenges of 2021 came at them from all sides, threatening to drag their businesses to the ground. Picture any one of these elements as a 250-pound linebacker charging at you:
Managing a workforce through COVID
A volatile lumber market, reaching historic highs
A shortage of engineered wood and metal connector plates
A lack of qualified employees
High demand for manufactured components
This isn't an exhaustive list, but it's clear these things kept everyone on their toes as they struggled to manage the blitz that 2021 threw at them.
Just like in football, when our focus is on so many challenges, sometimes one of them can get through to sack you. As someone who handles claims for several component manufacturers, I would like to point out an area that can easily get overlooked when you are scrambling to stay ahead: driver selection and training, and fleet safety. Here are two facts that should immediately get your attention:
The U.S. Labor Bureau's most recent statistics list the largest cause of workplace deaths (nearly 40%) is auto accidents.
Over the last 10 years, the largest claims in the building component industry have been truck related, leading to annual auto insurance premium increases.
Case Example:
New Driver Accident
Have you ever wondered what financial impact a truck accident can have on your company? Here's a recent example of a claim I handled that illustrates the total cost of an accident. On July 12, 2021, a component manufacturer called to inform me that a driver they had hired just the week before had turned a corner too quickly, and rolled its new 2021 Kenworth truck along with a trailer loaded with trusses.
No other vehicles or people were involved, so thankfully the claim wasn't significantly worse. Yet the two-week-old truck, and the trailer and trusses, sustained significant damage. Given supply-chain constraints, the truck was out of service for two months waiting on parts, causing additional costs and problems meeting deliveries. The driver also sustained injuries, so a workers' compensation claim was filed. Even though insurance paid to cover the direct loss, the company still had additional, uncovered costs, as follows:
$3,000 | Truck Deductible
$1,000 | Trailer Deductible
$1,000 | Truss Damage Deductible
$2,000 | Supervisor's time to respond, report, and investigate claims until repairs were complete
$4,000 | Cost of overtime pay to other drivers until injured driver returned to work
$3,000 | Decrease in auto insurance discount at renewal
$8,000 | Increased workers' compensation premium due to direct increase of experience MOD after filing claim
Total | $22,000 in Out-of-Pocket Costs
This case example illustrates the actual costs and financial impact of a relatively straightforward claim. Just as a charging linebacker gets the QB's attention, I hope this illustration now gets yours. Here are some best practices to consider to minimize the chances of a similar event happening to you.
Although it's easier said than done, never lower your hiring standards because of a driver shortage! Not everyone is capable of navigating a 50,000-pound commercial motor vehicle with an irregular, unbalanced load down public streets. The consequences of a bad hire can be catastrophic.
Always conduct a thorough check of the driving record of every potential hire and establish a driving record standard that you do not deviate from.
Because a large percentage of accidents occur with drivers employed for less than four months, in addition to establishing strong hiring practices, ensure that your onboarding and early training processes are thorough and are followed by every new hire.
Even if they have previous driving experience, new drivers may not be familiar with your trucks, the unique aspects of component package loads, or navigating the roads to a residential job site. Have a process in place that evaluates new drivers' ability and tests their experience against the unique delivery demands of this industry.
Consider having every new driver drive with a supervisor to evaluate skill, knowledge, and safe actions before being given the responsibility of operating one of your trucks.
Develop a feedback loop. Always perform an investigation of any company accident to determine cause, then initiate corrective practices to minimize the risk of similar accidents in the future. Incorporate findings into future safety training sessions.
Establish clear accident reporting procedures and ensure everyone is thoroughly trained on how to follow them. The time right after an accident is the worst time for your driver to try to figure out the best course of action.
Have an accident packet in every vehicle that provides clear instructions on what to do in case of an accident. Make sure drivers know how to complete accident-related forms and obtain information from any involved parties. If possible, drivers should be trained in how to safely take their own pictures of damage and vehicle positioning.
Drivers should be trained to never admit fault. There are legal procedures for establishing blame in an accident, and drivers should not short-circuit that process.
Always notify your insurance carrier when you hire a new driver. Insurance companies don't like learning about accidents involving drivers who were not listed on your policy. Some auto policies may have driver restrictions, so make sure you are aware of your coverage and any limitations that may impact who can drive a company vehicle.
Consider enrolling in an employer notification service (ENS), if available in your state, to get automatic updates when a driver's license status changes, there's an accident, or a conviction that impacts their driving record.
Develop a distracted driver policy as part of your fleet safety program and establish a meaningful enforcement mechanism as part of that policy.
Have an adequate fleet maintenance program. To protect your drivers and your equipment investment, make sure vehicles with mechanical issues don't leave your yard.
Conduct regular safety training with every driver and keep records of training attendance, curriculum, and dates.
Use electronic logging devices (ELDs) and independent GPS systems to provide valuable information to determine the cause and fault of an accident. We have been able to confirm a driver's innocence and refute claims of speeding with the use of these systems.
Develop a formal program to recognize and reward safe and reliable drivers. Life safety should be well rewarded, but it helps to invest in a more in public acknowledgment of drivers with good safety records.
The Bottom Line
Managing your company's transportation safety record through best practices is like having a pro-bowl-caliber line to protect you against the blitzing challenges that threaten to pull your profits down. If you have any questions about how to implement or manage these best practices, please feel free to contact me.
About the Author: Rich Langton at Bowermaster & Associates is an SBCA-endorsed insurance broker who has worked with the component manufacturing industry for 21 years. He can be reached at rlangton@bowermaster.com.